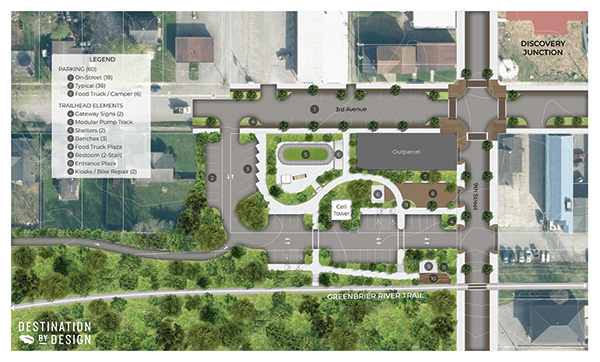 Suzanne Stewart
Staff Writer
At the August 7 Marlinton Town Council meeting, Tim Johnson, director of outdoor recreation planning at Destination by Design in Boone, North Carolina, gave a presentation on the proposed trailhead for the corner of Third Avenue and Ninth Street in downtown Marlinton.
The trailhead is to provide information and a starting point for people using the Greenbrier River Trail in Marlinton. In his proposal, Johnson explained the layout of the trailhead and how it will not only act as a place for information, but a place for additional recreation for visitors and locals.
"Our goal was to create something special for Marlinton," he said. "Something that people would remember. It would serve as a trailhead, but it would also serve as a place for folks to come – locals, as well as visitors."
Johnson presented two concepts, with only one difference – the first has a removable pump track and the second has a permanent pump track.
"We've provided two options, because we know this site is in the floodplain, so one of these, we feel would be less expensive in the floodplain – you would have to do less to make this happen – versus the second concept," he said.
The layout includes 36 parking spots and signage at two entrances – one on Third Avenue and one on Ninth Street.
Facing Third Avenue, beside the Frontier parcel, will be a picnic shelter and pump track – whether it be the removable or permanent track. Behind the Frontier parcel on Ninth Street will be a food truck plaza, picnic shelter and public restrooms.
Next to the Greenbrier River Trail will be sign kiosk and bike repair stations.
Johnson went into detail explaining the two types of pump tracks and why Destination by Design suggested the use of a removable track.
"Pump tracks are a bike specific amenity that you see a lot now in various places and the design of these pump tracks allows the rider to ride the track, ride in a circle or the shape of the track, simply by pumping their bike," he said. "So they pedal to get started, but once they get their momentum going, they're not pedaling at all.
"This is something that little kids enjoy," he continued. "This is something that adults enjoy. In Concept A, we are showing a modular pump track. This would be on a concrete pad and could be removed if a flood was coming or there was a concern about the water getting up, so this would be a removable item, albeit not easily movable."
If the town chose to go the route of a permanent pump track, Johnson said the track would be paved.
In creating the concept for the trailhead, the design team chose an industrial theme to go with the town's railroad history. The gateway signs and kiosk signage will be made out of an I-beam design and have sides designed to look like a trestle.
Johnson shared photographs of design elements matching the industrial concept including street lamps, benches, tree grates, anti-bear trash receptacles and paver systems.
In addition to the proposed trailhead, there is also a proposed streetscape on Third Avenue which will include wider sidewalks, trees and parking.
"What we're trying to do with this proposed streetscape is to make it more comfortable for pedestrians as well as bikers," Johnson said. "The way that we've done that is we've created wide sidewalks, so we've got six-foot wide sidewalks on each side and a four foot paver strip on each side. That's going to provide you with ten feet of width for pedestrians and bikers to use."
The proposal also includes "bumpouts" at the curbs to allow for planting trees.
The concept will require Third Avenue to become more narrow for traffic, and Johnson said the town would have to work with the West Virginia Division of Highways to get approval for that part of the project.
Johnson gave an estimate of $1,390,498 for the total project and explained that it can be broken into three phases.
The project would begin with surveying and engineering which will cost and estimated $213,902. The first phase of the project will include side prep, demolition and grading; hardscaping; site utilities; sidewalks; and signage for an estimated cost of $356,454.
The second phase of construction will include the plaza areas, shelters and two-stall restroom for an estimated cost of $449,644. The third phase of construction will include site furnishings and signage, the pump tracking and the landscaping at an estimated cost of $370,498.
The next step is finding the funding, which council said it will look into grant opportunities to help make the trailhead a reality.