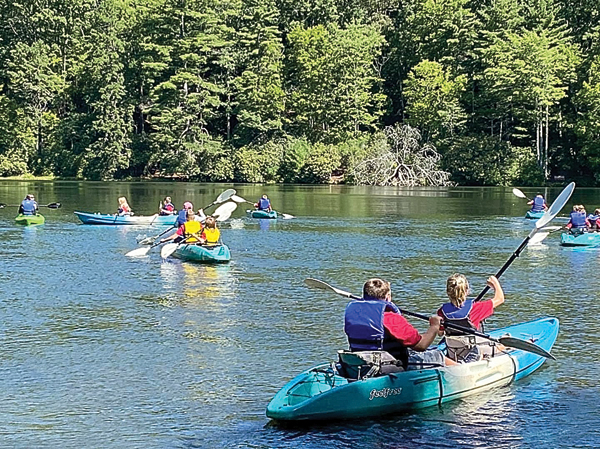 Suzanne Stewart
Staff Writer
Kayaking, fly fishing and West Virginia history were just a few of the sessions Pocahontas County fourth graders took part in during the month of September in the Nature's Mountain Classroom outdoor adventures educational program.
The sessions kicked off at Watoga State Park where students kayaked on the lake, learned rope tying skills, got up close and personal with salamanders and created their own trout drawings.
Next stop was Snowshoe Mountain Resort where they learned to fly fish with the help of the folks from Elk River Touring and Knapps Creek Trout Lodge. They also continued their kayaking lessons and artistic renderings of aquatic life.
It was on to Cass Scenic Railroad State Park in the third week, where the students got to experience a bit of history as two steam locomotives came down the track to the Depot and parked while the students learned more about the history of the railroad and logging industry in the county.
They also snorkeled in the Greenbrier River and enjoyed several camp songs as a warm up to the day.
The last adventure for the fourth grade students was at the Buckeye bridge, where they created pumpkin boats, biked and participated in a STEM activity.
Program coordinator Tracey Valach said she has been thrilled to see Nature's Mountain Classroom in motion and said that 100 percent of the fourth grade students returned their waivers and participated in the program.
"It's awesome," she said.
Marlinton Elementary School teacher Brian Smith said his students have really enjoyed the experience and are learning a lot about the county, and themselves, with this added curriculum.
"They've been enjoying themselves and a lot of them are getting experiences they've never had before," he said. "Their first time in a boat; their first time fly fishing. They're getting some really cool opportunities they wouldn't have otherwise had. I think they're having a blast."
Along with the one day a week adventure in the county, Smith said he has incorporated the experiences into the classroom as much as he can.
"I definitely look for ways to tie this back into the classroom," he said. "We've done a few connections, like writing in class about our previous adventure, what we hope to do on our next adventure. Also connecting science – it's easy to connect science."
With this being the first year for the program, Smith said it's been a learning opportunity for the teachers and school staff, as well, and he hopes to see the program continue to grow in the future.
"We're trying to figure things out right now," he said. "It's been a wonderful beginning, but I think we can do even more to bring in our own standards and other lessons and stations. Each year I think it will grow and we'll be able to add new ideas."
The next adventure will be with the fifth grade students and will incorporate biking with the content standards. The first session will be September 30 at Camp Hidden Meadows.