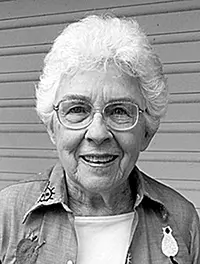 Nancy Ward Currence was born May 29, 1937, in Marlinton, the second of four daughters of the late Richard F. Currence and Nancy McNeel Currence.
Known as the "Currence Girls," the four sisters, Jarve, Nancy, Louise and Sara, remained close throughout their lives, celebrating holidays and family reunions during Pioneer Days in Marlinton and later at various beaches and mountain cabins.
Nancy was valedictorian of the Marlinton High Class of 1954 and went on to study at Duke University where she met her future husband, John Kopf. Active in the United States Air Force, John's career took them around the country and the world. Their family grew to include daughter Anne and son Carlo.
Known as Nan, she settled in Tallahassee, Florida, where she earned a degree in Art History at Florida State University and worked at the State Library. Nan was an active member of Unity Eastside Church, baking and delivering a chocolate cake every Monday for several years. Nan enjoyed an active lifestyle as a tennis player and through water aerobics. She taught Scottish Country Dancing, played bridge at the Senior Center and crocheted red, white and blue blankets for Veterans and others who needed the special comfort of a handmade gift. Nan was also active at Westminster Oaks where she was a longtime resident.
In addition to her parents, Nan was preceded in death by her sister, Louise Currence Christensen.
Nan is survived by daughter, Anne Kopf-Sill, and husband, Al Sill, and their children, Jarvis Sill and Forrest Sill; and son, Carlo Kopf, and his children, Sarina Kopf and Sienna Kopf; as well as her sisters, Mary Jarvis Currence and Sara Currence Emery; former husband, John R. Kopf; brother-in-law, David J. Christensen; and a host of nieces, nephews, cousins and dear friends.
A memorial service will be held Saturday, July 8, at 11 a.m. at Unity Eastside Church at 8551 Buck Lake Road, Tallahassee, Florida.
There will be a reception following the service.