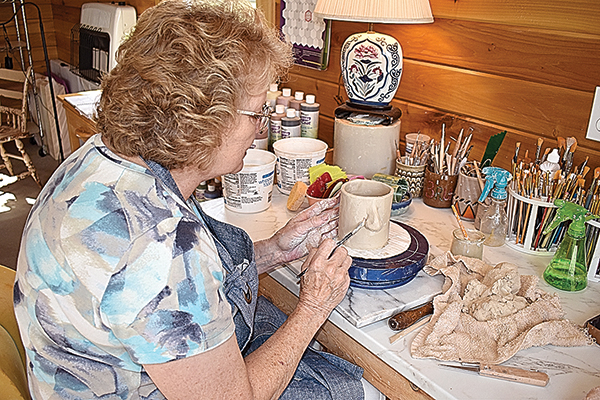 Suzanne Stewart
Staff Writer
When Arbovale resident Sue Hevener first touched clay in a class taught by Kay Gillispie in 2010, she had no idea she would one day become a Tamarack artist. She was content with learning the art of using a pottery wheel and hand-building creations.
"The first thing I ever made wasn't even a mug," she said. "I made a birdhouse and that inspired me. I was so proud of that birdhouse. The next week, I made another birdhouse, and I put a face on it. You can tell from 2010 to 2023 – I've come a long way, baby – because it is not very pretty, but it's my son's favorite."
That birdhouse with a face – which holds a place of pride in a curio cabinet with many of Hevener's creations – is what inspired her to further explore her passion. She bought 50 pounds of clay from Gillispie and kept it in the basement.
One rainy day, she went down and started to hand-build – her preferable mode of modeling clay – and learned several lessons from the piece she'd made.
"I pulled out a box, and I just started molding it," she said. "Again, I was trying to make something big, and I did. I thought he was beautiful. I left it uncovered and when I went back down a couple days later, it was hard and it rough-handed me. I picked it up and broke it. That's what started my hand-building."
Although that piece did not survive, Hevener was not deterred. She enrolled in a class in Charleston with a friend. She liked learning about pottery, but disliked the atmosphere of the class.
"To me, a class should be very social and very laid back," she said. "This class was not."
Despite that, she returned a year later and enrolled in a class that had more laid back participants who were there for the same reason as Hevener – to learn and enjoy.
"I met so many nice people," she said. "The instructor was right when he said it was a good class because you had people that were so advanced and then there were beginners like me and there were intermediates. You didn't feel like you were intruding or in their space."
After the second class, Hevener found her niche in hand-building, and through trial and error, began making her now famous face mugs.
"I started putting faces on them – and why a face, I don't know," she said. "It just intrigued me. I've had many people say, 'do you look at people and think I'm going to make them?' I don't. I may see a unique nose, unique mouth or teeth and think, 'I bet I could make those.' But I never associate that with a person."
Hevener said that if any of her mugs remind people of someone specific – which they have in the past – that it is total coincidence.
As Hevener developed her style of mugs, her husband, Bill, told her she could sell them and even suggested she jury for Tamarack.
"I said 'I'm not doing it,"' she said about Tamarack. "This is just fun for me."
Eventually, Hevener did jury to join the Pocahontas County Artisans Co-op and sold her mugs at the 4th Avenue Gallery in Marlinton and Leatherbark in Cass. She also became a vendor at The Mtn. Shop in Green Bank.
"I went to The Mtn. Shop and asked if she would be interested and she looked at them, and said, yes," Hevener said. "As I was putting them on the shelf, a woman came in and bought two of them. I couldn't wait to get home to tell Bill."
A year later, Hevener finally took the plunge and submitted an application to Tamarack and, almost immediately, was selected to be juried, and her work was accepted.
"I really did not anticipate ever A) being accepted; and B) having an order that day," Hevener said. "[My buyer] said she wanted 42. I nearly fell over."
Now that she had an inventory list to fill and more on the horizon, Hevener said it was time to move out of the basement.
Bill had a studio built for her and she quickly went to work on her one-of-a-kind face mugs.
Since she was selected, Hevener has received four orders from Tamarack and has managed to keep up with the demand, and to add a few new items to her inventory.
She began making soap dishes in two shapes – one that looks like a bathtub with a head on one side and two large feet on the other. The second is a rainbow trout.
In addition to selling at Tamarack, Hevener also has items at Cedar Lakes and The Snowshoe Hare at Slaty Fork. She also hopes to soon be selling in some West Virginia State Parks.
Because of demand and the time it takes to hand build so many pieces, Hevener said she is no longer a member of the Pocahontas County Artisans Co-op.
It's been 13 years since she first picked up clay and hand-built that first birdhouse, and Hevener said she is still surprised that so many people buy and enjoy her work, but she is happy to continue to make her unique creations until she can't anymore.
"It's still hard for me to believe, that I could be at Tamarack and my work would sell," she said.
"I do enjoy it. I don't know where it will take me. I don't know how long I'll be doing this, but I do enjoy it."