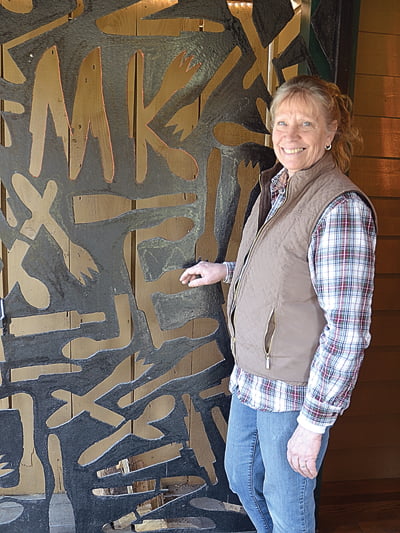 Laura Dean Bennett
Staff Writer
It's taken years of blood, sweat and tears, but Mim Miller's dream of having a restaurant is finally coming to fruition and getting to this point has been a real family affair.
The long-awaited, "Mim's Kitchen" will open Thursday, April 18, at 11 a.m.
The Millers – Bill, Mim and their 12 year old son, Kane, moved from North Carolina to build a new life here in Pocahontas County.
As they have the know-how and the gumption to do things for themselves, they built their own house and renovated an old church building – now the site of Mim's Kitchen.
Mim will be serving what she calls "good old-fashioned home-cooked food – everything will be made from scratch."
You'll find Mim's Kitchen at the intersection of Stony Creek, Jerico and Woodrow roads in the former Stony Creek Chapel, just across the road from the old log church.
The Millers came from Westminster, South Carolina – near Clemson – where Bill ran a successful excavation and construction business. After the recession, they decided it was time for a change.
"We liked Pocahontas County right away," Bill said. "There was so much open space and freedom here, and we really liked the people.
"We're simple people, and we felt like we fit right in."
So, 18 years ago, Bill and Mim bought 30 acres on Stony Creek, the former site of the "old charcoal plant," and made plans to build a house.
While he was building their home, which sits behind the restaurant, Bill had two serious health scares which threatened to derail their future.
But, Bill finally got back to it, and six years ago, as he was beginning to work on the house again, the Millers were offered the little piece of property on the corner of their place, where an old, empty church sat among an overgrowth of shrubbery and weeds.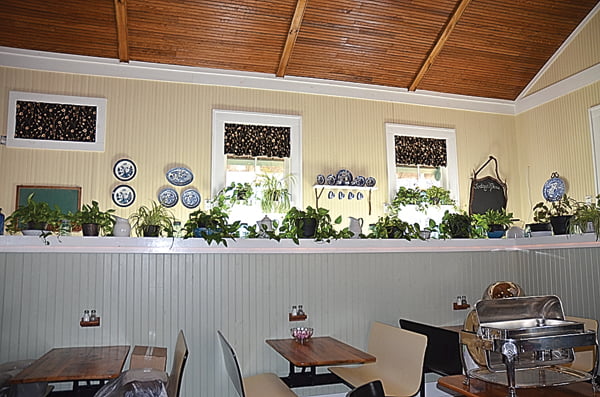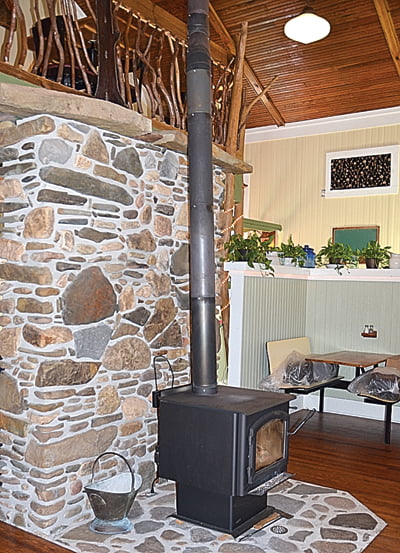 Although the church was built back in 1928, the Millers found that it "had good bones," Bill said.
"And it's so beautiful," Mim added, "we didn't have the heart to tear it down. We wanted to do something with it and give it a new life.
"It's always been Mim's dream to have a restaurant, so that's what we decided to do," Bill explained.
"We're so proud of this place," Mim said. "We hope to please people with good food and a homey atmosphere."
When you walk into Mim's Kitchen, you'll be pleased right away.
The place has a dramatic, but cozy, feel with its 17-foot ceiling, a wood burning stove set before an impressive rock backdrop, original tongue and groove walls decorated with blue willow china with added touches of mountain laurel.
A graceful balcony seating area overlooks the restaurant below.
Original schoolhouse light fixtures, added to Mim's handmade light fixtures and artwork, make the space a one-of-a-kind design.
And all the work was done by the Millers.
The family does everything, makes everything and builds everything they need.
"All the wood in here, we cut ourselves on our own sawmill," Bill explained. "And we gathered the mountain laurel for the stairway from the woods.
"Whatever we can't make, we don't have."
Looking closely at the metal work in the heavy gate swinging from the front door and at the pot rack in the kitchen, you'll see Bill's fine workmanship.
The metal is from the kilns of the old charcoal plant.
The 60-seat restaurant includes balcony seating for 10-to-12 and an upstairs "party room" which will seat 20 people for private gatherings or can be used for overflow when the restaurant is extra busy.
Mim's Kitchen will also accommodate special groups on Monday, Tuesday and Wednesday when the restaurant is closed.
Mim has 40 years' experience in the restaurant business and, besides, she was raised on a farm so she knows what hard work and "home cooking" are all about.
People in Pocahontas County have gotten to know her cooking and baking skills over the last several years. She's been cooking for Teacher's Week every year, and IGA customers have been enjoying her elaborately decorated cakes for more than four years now.
Mim and Bill both stress the fact that all the food will be fresh and made from scratch "with no processed meat," Mim states firmly.
And it will be served cafeteria-style.
There will be real mashed potatoes made with chicken broth and garlic, baked potatoes and baked sweet potatoes, soups served in bread bowls and shepherd's pie.
The restaurant will always have two soups to choose from and a specialty sandwich of the day.
Depending on the day, there'll be delicious offerings such as French dip or barbecue sandwiches, or Mim's famous chicken salad.
The salad bar will offer interesting toppings, and the salad dressings will be made from scratch. All of the breads and rolls will be baked on the premises by Mim.
There will be plenty of temptation in the dessert department – cookies, cheese cake, carrot cake, German chocolate cake and Mim's famous pies.
Guests will register when they visit and, once a month, there will be a drawing. The winner will receive free lunch or dinner for two.
"People have been stopping by to see what we've been doing for a long time now," Bill said.
It's been a long time coming, but the family can finally say that Mim's Kitchen is a reality.
"The way things have worked out, we think this must have been meant to be," Mim said.
"It'll be nice to see this old building smile again."
Mim's Kitchen will be a great place for special events.
With the old log Hamlin Chapel just across the road, this corner of the world is a perfect spot for a wedding and reception.
But you don't need a special occasion to visit Mim's Kitchen. The Millers encourage people to drop in for coffee and a chat.
Beginning Thursday, April 18, Mim's Kitchen will be open Thursday through Saturday from 11 a.m. to 7:30 p.m. and Sundays from 11 a.m. to 3 p.m.
Mim's will be open for dining on Easter Sunday.
Reservations are recommended for large groups.
Call 304-799-2240 for directions or reservations.
Editor's note: Due to a printing glitch, this article did not run in its entirety in last week's paper.