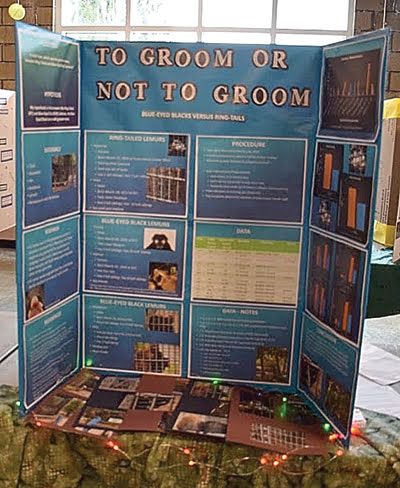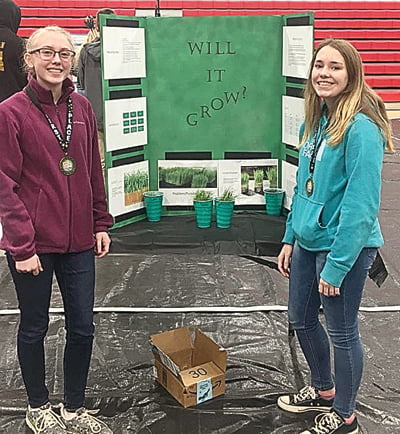 Suzanne Stewart
Staff Writer
 
Three county middle school students placed first at the Regional Science Fair.
 
"To Groom or Not to Groom"
Willie O'Ganian is a seventh grade student at Green Bank Elementary-Middle School, and to say he is a fan of lemurs is a definite understatement.
Willie has done a science and social studies fair project on lemurs every year since third grade. This year was no exception. The subject this year was whether the ring-tailed lemur or blue-eyed black lemurs groom more.
Willie was able to study both breeds of lemurs in North Carolina where he collected most of his data. 
"Each year, I generally attend a lemur camp at Duke, North Carolina," he said. "There we got to choose a project that we wanted to study during the camp and I chose that. I decided that wasn't quite enough information, so I got permission to go back there in October to do more studies. I just studied the ring-tails and the blue-eyed blacks on their tour path."
Willie concluded that the ring-tail lemurs groom more because they tend to spend more time on the ground, so they need to clean themselves more often.
Willie said he fell in love with lemurs after a trip to the Richmond Zoo where he learned more about the endangered species and enjoyed that they were kind of monkeys but not monkeys.
Willie is the son of Paul Marganian and Karen O'Neil.
 
"Will it Grow?"
Marlinton Middle School seventh grade students Eden Smith and Jasey Kramer had a simple question – Will it Grow? – but it wasn't as simple an experiment and their results were a bit of a surprise.
"We were trying to figure out if we used four different liquid substances on grass, which liquid would help the grass grow?" Eden said. "My mom told me a story one day while we were in the car about how one of her teachers would water her plant with soda and I was like, 'that's really cool, I wonder if that actually works.'"
To up the ante though, the girls did more than just a comparison of water and soda. They added Gatorade and lime juice, testing a total of four liquid substances to see which made the grass grow best.
"We got Gatorade because people who are in sports use it, and it gives them a lot of energy and we got lime juice because that comes from a fruit, so we thought that might be cool, and water because that's what you usually water your plants with," Eden said.
The results?
"The water," Jasey said. 
"The Gatorade grew the second most and then it was the lime juice and then the Coke," Eden added.
"The Gatorade almost grew as much as the water, which was surprising," Jasey concluded.
Eden is the daughter of David and Kristy Smith and Jasey is the daughter of Josh and Jamie Kramer.
Marlinton Middle School also had two students who placed second and third at the regional fair. If the first place winners in their categories are unable to attend the state fair, the alternates will step up to compete.
 
"Growth of Trees"
Sixth grade student Silas Beezley won second place with his project in which he compared the growth rate of three species of trees. 
"We did that by – you cut down the tree, count all the tree rings and measure the diameter, and you divide the two and you get the average growth a year," Silas said. "We tested three different trees – the white ash, the black walnut and the white oak – to see which one would grow the fastest. My hypothesis was that the white oak tree grew the fastest, and the answer for the experiment was the white oak."
Silas, of course, did not cut down the trees by himself. Luckily, his dad, Ken, is an arborist and logger, so he helped Silas with the heavy work.
Silas is the son of Ken and Ruthanna Beezley.
"Do Different Color Lights Affect Plant Growth?"
Eighth grade student Kim Underwood placed third with her project where she compared the use of color lights to help plants grow.
"I used yellow, red and green lights," Kim said. "I found out that the green light was the most effective for the plant's growth. The yellow didn't really benefit the plant very much. It didn't grow as much, and it wasn't as healthy. I tried it on watermelon and radishes." 
Kim said she chose the project subject because she enjoys growing plants and thought it would be interesting to see how the lights affected growth.
Kim is the daughter of Richard and Julie Underwood.