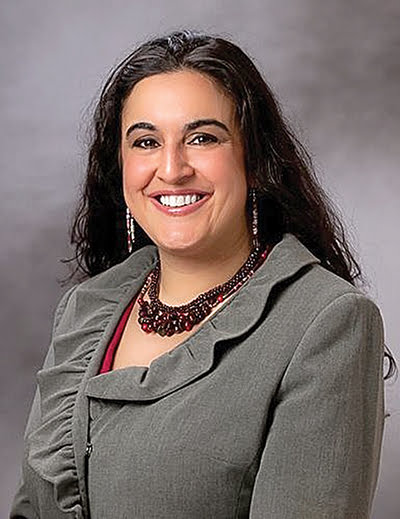 Linda Simmons
Chamber Liaison
Pocahontas County Chamber of Commerce will have its annual dinner Thursday, March 22, beginning at 6:30 p.m. at the Opera House in Marlinton.
Members should make dinner reservations by March 13 by e-mail to pocahontas countychamber@gmail.com or by calling 304-799-2509.
The guest speaker for the event will be Parween Mascari, Executive Director of the West Virginia Farmers Market. Musical entertainment will be provided by young local musicians playing Old-Time Music.
Mascari is an attorney and a native of Parkersburg.  Through her work at the West Virginia Chamber of Commerce with small and large businesses, and with the legislature, whe helps shape policy for the State of West Virginia. Through her own entrepreneurial efforts and community involvement, Mascari is guided in all things by her mission of supporting and encouraging local economies. She focuses on job creation, quality of life, hospitality and tourism, small business and entrepreneurship, philanthropy, community and economic devel- opment, as well as attraction, retention and recruitment of talent in the Mountain State.  
Mascari serves as a Trustee and the Audit Committee Chair for the Claude Worthington Benedum Foundation, a board member of the Snowshoe Foundation, and a member of the public policy committee of Philanthropy West Virginia.  She is a consultant to the America's Best Communities contest, a member of the WVU College of Law's Visiting Committee, and an advisory board member for the Brickstreet Center for Innovation and Entrepreneurship at WVU.  Mascari is a founding member of Generation Morgantown and Generation West Virginia, and previously served the people of West Virginia on the boards of the West Virginia Economic Development Authority and I-79 Development Council.
Her passion and purpose is to always be working on projects and with people who are interested in moving the State of West Virginia forward.  Mascari received both her MBA and law degree from West Virginia University.  After law school she spent a decade as an attorney with the law firm of Jackson Kelly PLLC. 
She has four children and divides her time mostly between Morgantown and Charleston, but spends as much time as possible on the top of Snowshoe Mountain where she owns the West Virginia Market, a small retail shop specializing in locally produced goods made in West Virginia by West Virginians.