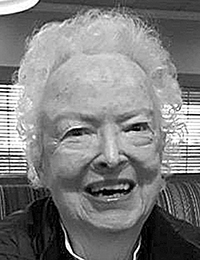 Mary Jane McMillion, 86, of Christiansburg, Virginia, joined loved ones in Heaven Friday, August 4, 2023.
Born in Renick, she was a daughter of the late Elmer and Stella Brown.
Mary Jane graduated from West Virginia University and remained a lifelong Mountaineer, cheering on her home team through every football and basketball season. She and her late husband, Martin, traveled ex- tensively, making cherished and lifelong friends wherever they went.
In addition to her parents, she was preceded in death by her husband, Martin McMillion; and sister, Helen Dotson.
She is survived by daughters, Teanna Day (Tim) and Myra McMillion Conner (Kirby); grandchildren, Kate Day, Bethany Day and Mason Conner; as well as many beloved nieces and nephews.
Mary Jane was a long time member of Christiansburg Presbyterian Church. Her love and faith in Jesus will comfort her family in the days ahead.
Funeral service will be held Thursday, August 10, at 11 a.m. in McCoy Funeral Home Chapel in Blacksburg, Virginia, with Reverend Kris Moore officiating.
A graveside service will be held Thursday at 2:30 p.m. at Greenbrier Memorial Gardens in Lewisburg.