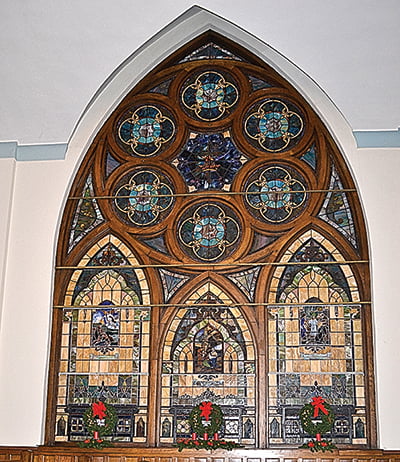 The Marlinton Metho-dist Church celebrated its 125th anniversary October 29, 2107.
Rev. David Merryman planned an appropriate service during which he recognized two former pastors, Rev. Karen Brown and Rev. Robert Mann, as well as past parish coordinator Gayle Lesure.
Adding to the celebration was the recognition of oldest living member Mary Frances Faulknier Barlow's upcoming 100th birthday and the recognition of Fred Burns, Jr., in appreciation of his years of service as church trustee and his interest in keeping the church property well-maintained.
Several former members were in attendance as well as Don and Millie Sharp, who were married in the Marlinton church 62 years ago.
The congregation and guests enjoyed a wonderful lunch and good fellowship after the worship service. Being a historic event, the church bulletin recalled Deuteronomy 32:7:
"Remember the days of old,
consider the years of many generations.
Ask you father, and he will show you;
your elders and they will tell you."
Marlinton became a regular preaching appointment for the Methodist of his area in 1892.
The first wooden church structure was moved to Central Union in 1924 and is still in use today.
The original brick church building was constructed in 1922-23, at a cost of $68,000.
The contractor was W. W. "Winnie" Kinnison, a native of the Hillsboro area.
Robert Jordan and C. J. McCarty, of Marlinton, built the framework for the stained glass windows. Mr. McCarty also built the pulpit that is still being used in the sanctuary.
The first service was held October 21, 1923. The dedication of the church took place August 11, 1929, after the last payment had been made on the church debt.
Major construction took place following the 1985 flood, including a new addition. The fellowship hall, which had been in the basement, was brought up to street level, and the Sunday School rooms were moved to the second and third floors of the new addition.
Junior high and high school age youth were involved in the Methodist Youth Fellowship (MYF), for many years.
The church currently sponsors an after-school program, "Kids Rock," for children in first through fifth grade. The program is under the leadership of Rev. Merryman and his wife, Mary Alice.