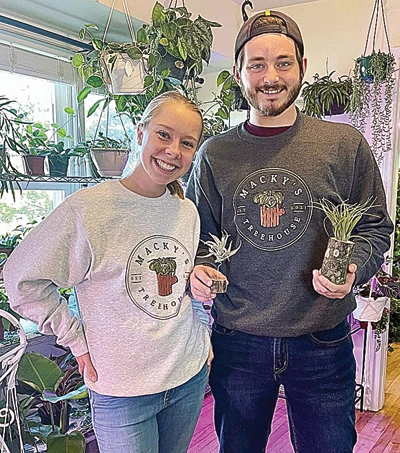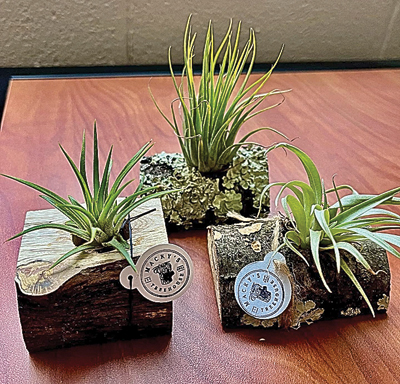 Suzanne Stewart
Staff Writer
As students at West Virginia University in Morgantown, during the COVID-19 pandemic, married couple Mathias and Macky Solliday didn't become couch potatoes when the university closed down. Instead, they turned their love of plants into a small business called Macky's Treehouse.
Mathias was majoring in horticulture, and Macky was majoring in animal nutritional science, with a minor in horticulture. The couple started their business by making containers for air plants, one of Mathias' favorites.
"It's a holder that allows air flow to actually move; that was just a random idea that Mathias had," Macky said. "Air plants – they're tillandsias and they are ephiphytic, which means that they get their nutrients from the air rather than having roots. Some do have roots, but they are aerial roots. They are only meant to grab on and hold on to things."
Macky explained that care for air plants is really simple. Once a week, the plant needs to be taken out of the container and submerged in water for half an hour to an hour. It gets the rest of its nutrients from the air.
At the pair's first event, where they had 20 of the air plant containers – made from branches of wood from the Solliday farm – they sold out. From that point, the creations grew to include several kinds of air plant containers and wood turned items like bowls, salt and pepper shakers, bottle stoppers and pens.
"The wood is all sourced in the county," Macky said. "Mathias' family has a large farm and they have a lot of wooded area, so we go in there and any pieces that are on the ground, we get the chainsaw, chop it off and bring it down to the shop to make it into something."
The Sollidays moved to Pocahontas County after graduation and are now both working full-time jobs in the county. They still find time to work on their creations and have several events coming up in the future, which they promote on their social media pages.
The next event in Pocahontas County will be Saturday, April 29, at Emma Grace Boutique in Green Bank.
Mathias is a 2019 graduate of Pocahontas County High School and Macky is a self-proclaimed "military brat."
Macky said she has lived in several states and overseas, moving between 10 and 13 times before she graduated high school in Germany. She returned to the United States to attend college and just happened to pick WVU in a state she had yet to live in.
"I didn't have the opportunity to visit any colleges at all, so we basically found the major that I wanted, which was animal nutritional science, and WVU had a good program and Auburn in Alabama had a good program," she said. "I didn't like Alabama because I had lived there. So I was like, "okay, I guess WVU it is.'"
Her first day of classes was her first day setting foot on campus, and it was her first time living in West Virginia.
"We moved a lot," she said. "I'm happy to finally be in a place where I don't have to move. That's been really nice."
To learn more about Macky's Treehouse, visit the Facebook and Instagram pages – Mackys Treehouse.