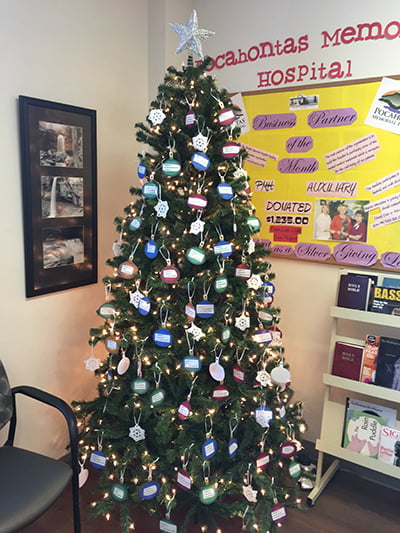 Each year, the Pocahontas Memorial Hospital Auxiliary decor- ates a Love Light Tree in the reception area of the hospital with ornaments sold in memory of, or to honor, loved ones. For the past three years, all money raised from the project has been donated to the hospital's Capital Campaign for room improvements.
The Love Light Tree is a wonderful way to show remembrance of loved ones and help others, too. We encourage you to purchase an ornament this year.
The cost is only $5 for each. An order form is printed on page 3 of this edition of The Pocahontas Times, or you may call Edwina Garber at 304-799-7400 ext. 1081 for more information.
The Pocahontas Memorial Hospital Auxiliary was formed in 1972 with 94 active and associate members and through the years has contributed more than $100,000 in equipment and improvements at the hospital. Funds are raised through various fundraisers and the hospital Gift Shop.