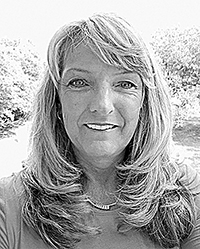 Lora June "Lori" Bottke was many things, but most of all she was a proud mom and grandma. Lori was born February 14, 1964, and passed away September 17, 2023, after a tough battle with cancer. Her strength that she brought to all parts of her life is reflected in her family.
Lori was passionate about dogs, cooking, country music, traveling, Hallmark movies, babies and the beach. She loved her family and friends fiercely. She made the most of her time with them by taking photographs, giving gifts and making memories around the good times. She would stop and drop everything at a moment's notice to help someone.
Lori was born and raised in Marlinton, and grew up with family just down the road. Growing up, she learned to cook from her mom who would serve everyone else before taking a seat and eating. As Lori was born on Valentine's Day, her father would buy her a box of chocolates from Murphy's in Richwood for her birthday every year. When Lori was older, she was a cheerleader at Pocahontas County High School and participated in beauty pageants.
After attending Fairmont State College, she joined Dominion Energy in 1983 and enjoyed 39 years of friendships from Bath County to North Anna to Richmond. In 1996, she became a Business Systems Analyst focusing on Nuclear Work Management. She excelled in this role, and it became her career. She was promoted several times and was an expert in explaining how IT applications supported business processes. Once retired, she did not stop and continued to work as a consultant for Cohesive and then Bentley Systems.
Her mother will remember: "She was a perfect daughter and angel, and now she is an angel in heaven." Lori will be missed by many. Her kind, caring, nurturing nature will be the mark she leaves on her family and friends. Lori will continue to find ways to take care of those she loves. If you hear a baby randomly giggle, she found a way to tickle them, a dragon fly landing near you is her checking in, a warm breeze is her giving you a hug, and the next sunrise you watch, she will be watching with you.
Lori was preceded in death by her father, Robert L. Wilfong; and her husband, Kevin B. Bottke.
She is survived by her mother, Luna B. Sharp Wilfong, of Marlinton; brothers, Robert Wendell (Barbara) Wilfong, of Marlinton, Kenneth W. "Red" (Pam) Wilfong, of Marlinton, and Kent E. "George" (Allison) Wilfong, of Louisa, Virginia; daughter, Kristin (Glen) Cronkrite; grandson, Arlin "AJ," of Maidens, Virginia; son, Matthew (Christa) Cassell; granddaughter, Emery, of Powhatan, Virginia; stepdaughters, Kari Lee Bottke (Leon) Button, of Matagorda, Texas, and Amanda Bottke (Shawn) Watkins; grand- sons, Charlie and Evan, of Bay City, Texas; nieces and nephews, Kelly (Mike) McLaughlin, Melissa (Ryan) Amick, and Chris Wilfong, all of Louisa, Virginia; as well as countless other family members and friends.
A Celebration of Life will be held at noon Saturday, October 28, 2023, at Salem Baptist Church, 465 Broad Street Rd, Manakin-Sabot, VA 23103.
Memorial donations may be made in her honor to the American Cancer Society, P.O. Box 6704, Hagerstown, MD 21741, or Donate Today /The American Cancer Society. 
Preddy Funeral Home of Gordonsville is assisting the family.