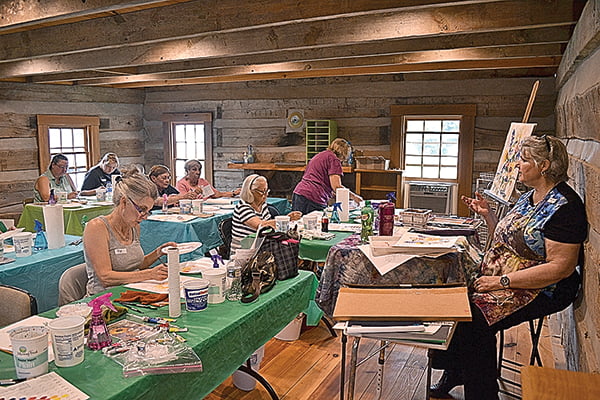 Suzanne Stewart
Staff Writer
When participating in a workshop offered by the Pocahontas County Arts Guild, there are several certainties:  you will learn a new art form or expand on your knowledge of that art form, you will make new friends and you will come home with a beautiful piece of art you made yourself.
For me, when I participated in the watercolor class presented by Pamela Gatens, I learned a very important lesson. I am not cut out for watercolor.
A lot of people may not realize, but I have a Bachelor's of Fine Arts degree, so I've had my fair share of art classes – drawing, sculpture, painting [acrylic], mixed media, electronic media and photography. One medium we never worked on was watercolor, so I wanted to give it a try.
Gatens is a professional watercolorist with artwork on display at the Grand Hotel in Michigan and the Colony Beach Hotel in Florida, as well as artwork for sale online.
She moved to Pocahontas County 16 years ago and has offered several workshops through the guild.
This class – the first at the Guild's new location in the renovated McGlaughlin house – seemed simple enough. A watercolor painting of a bouquet of wildflowers.
Gatens began the workshop with a few dos and don'ts of watercolor before having the class dive into their work.
"What we need to do today is learn about mixing color, learn about using just a few different brushes, and we need to learn about making strokes and leaving them alone," she said. "If you take anything away from this workshop, please take that away. You have about a second or two to put a stroke down on watercolor paper and you will be rewarded if you don't touch it again.
"If you let the watercolor do its own thing and blend and mingle, by the time the painting is dry, you will end up with something that looks like a watercolor," she continued. "You will not end up with something that's overworked and besides that, you will have fun doing it."
I knew I would be a troublemaker after that introduction. I like bold, dark colors and watercolor is more of a muted, subdued look, especially when painting floral arrangements.
Despite Gatens reminder that, "this is a watercolor class, you can't use too much water," I kept my pigments bold and had a hard time watering them down. Luckily, we actually painted two images. We had a small, practice painting which Gatens led us through, step-by-step, before we took off on the larger painting.
It took some time for me to loosen up and get those pigments watered down, but when it was time to move on to the second painting – which came after I dropped my palette on the floor, losing most of my paint – I was able to relax, unwind and let the watery paint flow.
The second, larger painting may look rough, but it looks like a true watercolor and that was the goal of the class.
And yes, I did have fun doing it.