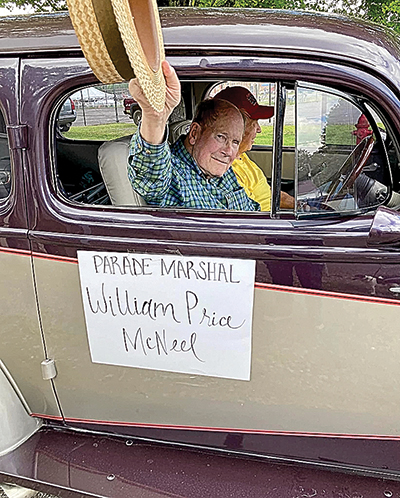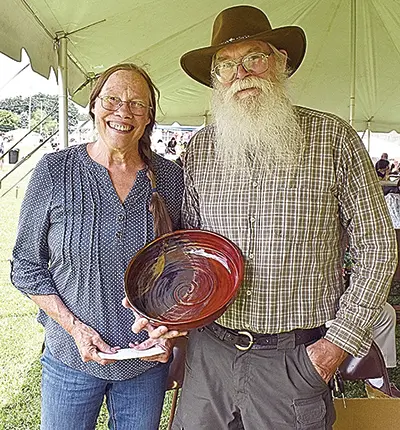 Suzanne Stewart
Staff Writer
It's true, there was some rain off and on Saturday, but that didn't stop the Little Levels Heritage Fair from providing entertainment, fellowship and good eats in Hillsboro. It was the 25th anniversary of the fair and nothing was going to stop the community from enjoying the festivities.
The athletic field behind Hillsboro Elementary School was filled with tents – for vendors, face painting, kids crafts and musical entertainment. Beyond the tents were rows of classic and antique cars that glimmered in the sun – when it finally made an appearance.
Fairgoers could take a wagon ride from the athletic field to the Mill Point Mill, which was open for tours.
Musical entertainment was provided by Juanita Fireball and the Continental Drifters; Richard Hefner and Joanna Burt-Kinderman who were joined by several instructors from Allegheny Echoes; Viney Mountain Boys; and the Porch Pickers.
The sun shone bright just in time for the Little Level's little parade, which was led by the Pocahontas County Veterans Honor Corps.
Winners of the parade were announced by Andy Rice. In the float category, second place went to the Mosesso Agency for its covered wagon; and first place went to Ken Beezley, owner of Little Levels Lumber Company, for his display of old-time saws and tools used in timber cutting.
Roland Cutlip was recognized for his classic John Deere tractor, which was driven through the parade by Dana Cutlip.
The overall parade winner was Miss Pocahontas Hannah Burks and her horse, Slider.
Rice also announced the winners in the pie contests. He explained that there are two categories – fruit and berry pies and cream pies, and that there were a lot of tasty entries this year.
In the fruit and berry category, third place went to Joyce Mullens with a strawberry pie; second place went to Merrily Taylor for her apple cranberry pie; and first place was won by Christine Smith for her sweet cherry pie.
In the cream category, third place went to Suzanne Stewart with a Depression Era water pie; second place went to Barbara Birchfield for her lemon pie; and first place was won by Mike Smith for his chocolate cream pie.
Mike was thrilled to hear he won and raced to the tent to get his prize.
"Are you kidding me?" he exclaimed. "Really? Yay!"
Mike and Christine, husband and wife, entered the separate categories so that they would not be competing against each other, but ended up going head-to-head for the Best in Show award – which went to Mike.
It was the first time both had entered the contest and they were very excited to take home two first place finishes, and best in show.
Saturday evening culminated with a lively square dance with music by Juanita Fireball and the Continental Drifters.