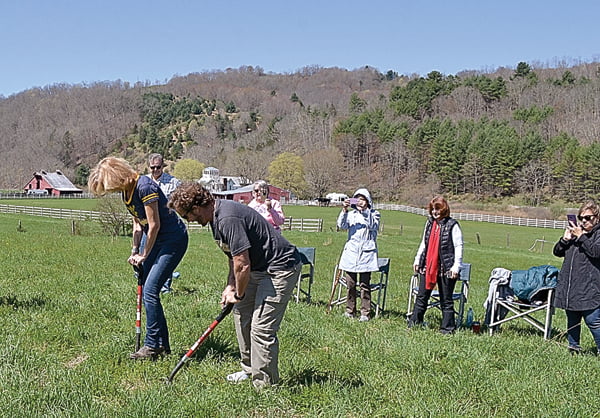 Suzanne Stewart
Staff Writer
Earth Day is a time to connect with the planet and find ways to improve the environment to make a difference for humanity. With that in mind, Phil Dugas and Yvonne Cole decided it was the perfect day for the official groundbreaking for the Lighthouse Center, located near Mountain Quest in Frost.
"The Lighthouse Center and Earth Day have a lot in common," Dugas said. "Earth Day has been around since 1970, and it's now in 139 countries worldwide, and the Lighthouse is very much in alignment with what Earth Day is about. Earth Day is about bringing awareness to environmental issues and coming up with ideas as a proactive way of making a difference in the world.
"We're going to have people work on their own internal ecosystem, because what we've discovered is that the external is a reflection of the internal, so when we deal with our own internal ecosystem, the external ecosystem automatically takes care of itself," he continued. "So this is where it has to start."
The couple, who founded the center where they plan to create a beacon of enlightenment, welcomed guests to the site to participate in the groundbreaking and a blessing ceremony for the land.
"We want to also acknowledge the Cherokee Native Americans who actually inhabited this land for hundreds, if not thousands, of years," Dugas said.
Lighthouse Center board member and close friend David Walker performed the Native American Calling of the Directions.
"We're inviting the heritage, the souls, the spirits of the Native Americans that have been here a long time, and greeting the original inhabitants of this land," Walker said.
Dugas then blessed the land while facing east, which is symbolic of new beginnings.
Supporters then joined Dugas and Cole in the ceremonial turning of ground to symbolize the beginning of the project.
Once completed, the Lighthouse Center will include a main building with classrooms for yoga, meditation, massage therapy and cooking classes, as well as lodging for the founders and guest instructors; a biodome for year-round organic fruits and vegetables; a sweat lodge; and three small homes with faraday cage-lined walls for visitors who are Electromagnetic Hypersensitive.
In closing the ceremony, Dugas quoted Albert Einstein, stating, "'When you look deeply into nature, you will understand everything.'"
"My invitation to everybody is: while you're here, allow yourself to connect with nature that's all around us," Dugas added.
For more information on the Lighthouse Center, visit https://lighthousecenter.life/
Suzanne Stewart may be contacted at sastewart@pocahontastimes.com