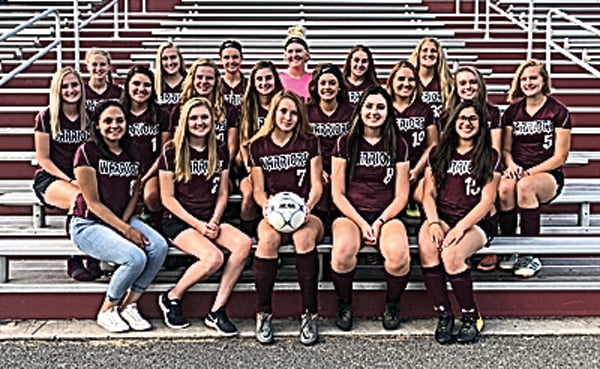 Game 7 – away vs. Herbert Hoover September 15
At half-time the Lady Warriors were ahead 1-0, and scored again in the second half for a final score of 2-0, Pocahontas. Their record is now 5 wins, 0 ties, and 2 losses.
Scorers were junior forwards Alexa Taylor and Laila Calhoun. Assists on these goals were from junior Kira Bircher and sophomore Savannah McMillion.
Additional shots on goal were from forwards and midfielders: seniors Marlee McLaughlin and Brianna Hefner, juniors Elizabeth Hefner, Sage McLaughlin and K. Bircher, and McMillion.
Defenders and midfielders, led by Hefner, juniors Emily Casto and Amelia Rose, and freshmen Macaden Taylor, Rayna Smith and Mackenna McKenny, cleared the ball out of the backfield 21 times.
Goalkeeper sophomore Sienna Bircher saved 3 goals of Herbert Hoover's 3 shots on goal, and allowed 0. This was the team's third shut-out of the season. 
The Lady Warriors games this week: Thursday, September 20, 5 p.m. at PCHS vs. Greenbrier East and Saturday, September 22, at noon at Braxton County.
They also have four games next week, including Senior Night Wednesday, September 26, at 5 p.m. at PCHS vs. Philip Barbour. The Lady Warriors have five seniors: Marlee McLaughlin, Brianna Hefner, Josie Faris, Justice Calhoun and Lindsay Browning.