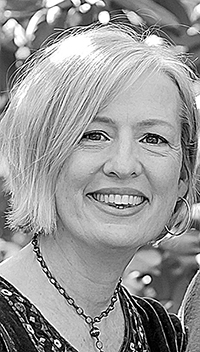 Kimberly Ness Haney, 51, of Duluth, Georgia, peacefully passed away Wednesday, July 26, 2023, at home surrounded by family and friends following a yearlong battle with Leukemia.
Kimberly was born December 4, 1971, in Willimantic, Connecticut.
She married the love of her life, Craig Haney, February 15, 2002, at Perimeter Church in Johns Creek, Georgia. Their son, Jackson, was born February 21, 2008.
Kimberly was passionate about her faith and home design. She beautifully decorated her home and was intentional about making sure it glorified God. In 2021, she started her own company, KH Design, LLC, and had several devoted clients who quickly recognized her talent and creativity. She also enjoyed gardening, shopping, traveling, watching movies and long boat rides at Clarks Hill Lake. She loved camping, hiking, Mexican food and apple martinis and spent many hours cuddling with her Dachshund puppies, Nala and Lola. Most of all, Kimberly loved sharing time with Craig and Jackson.
She was preceded in death by her beloved mother, Nancy Knott Ness (1943-1994).
In addition to her husband and son, she is survived by her father, Robert C. Ness, and stepmother, Martha Edgar Ness; twin sister, Heidi Ives, and husband, Austin Ives, (Emily and Kathryn); brother, David Ness, and wife, Megan Ness, (Addison, Bridger, Bennett); sister, Mary Katherine Murrey, and husband, Joseph Murrey, (Arabella and Liana); stepbrother, Christopher Niske; stepsister, Rachel Junod, and husband, Adam Junod, (Isaac and Henry); paternal uncle, Ed Ness and aunt, Karen Ness, (Kelly Trudersheim); maternal uncle, Sandy Knott, and aunt, Sue Knott, (Chris and Jeff); in-laws, Sam and Barbara Haney, (Lisa Lamb and son, Max Lamb); and many other extended family members.
A memorial service was held Friday, August 4, 2023, at Perimeter Church in Johns Creek, Georgia.