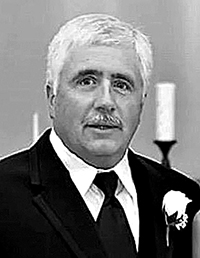 Kennison Adam "Kenny" Thompson, Jr., 66, of Green Bank, passed away unexpectedly Wednesday, October 11, 2023, at home.
Born January 8, 1957, at Elkins, he was the son of Kennison "Jake" Thompson and the late Sylvia Thompson.
He retired from Frontier Communications in February 2020. He enjoyed his co-workers and the friends he made through the journey.
Kenny loved the outdoors, attending ballgames and talking with friends. His greatest joy was spending time with his kids and grandkids.
Anyone who knew him has heard stories about his adventures with his family.
In addition to his father, he is survived by his wife of 43 years, Amy Lou Warner Thompson; son, Josh Thompson, and wife, Melia; daughter, Jessica Taylor, and husband, Jonathan; grandchildren, Moriah Thompson, Jenifer Taylor, Joseph Taylor and Isaiah Thompson; sister, Patty Thompson Gore, and husband, John; and nephew, Jacobey Gore; mother-in-law, Sylva Warner; and father-in-law, Emory Warner.
Funeral service was held Saturday, October 14, 2023, at Wallace and Wallace Funeral Home in Arbovale with Pastor David Rittenhouse officiating. Burial was in Arbovale Cemetery Annex.
Online condolences may be shared at www.WallaceandWallaceFH.com