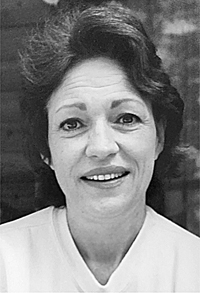 Karen Faye Linzalone, age 73 years, of Elkins, and more recently of Bealeton, Virginia, passed away Thursday, October 13, 2022.
Born February 4, 1949, in Stanaford, she was a daughter of Mary Etta Peacock, of Elkins, and the late Merriel Thomas Peacock.
Karen was a very kind, generous and caring person who loved animals and helping others. She loved spending time with her family, cooking and eating delicious food, listening to music and dancing, having fun and cracking jokes. She was a wonderful daughter, wife, mother, sister, aunt and all around caring person to so many.
Karen truly lit up the room and will be greatly missed by so many.
Karen is survived by her husband, Pasquale "Pat" Linzalone; her children, Dawn McKenzie, and husband, Daryll, Renee Withey, and husband, Art, Pat Jr. Linzalone, Vanessa Bergstrom, and husband, Ted, and Liana Boone, and husband, Quinn; brothers, David Peacock, and wife, Debbie, and Ronnie Peacock, and wife, Brenda; sister, Teresa Brewster, and husband, Allen; 10 grandchildren; three great-grandchildren; and her beloved dog, Iggy, who now resides with her youngest daughter.
A Celebration of Life service will be held Sunday, May 7, 2023, 1 p.m. at Tomblyn Funeral Home in Elkins.
The family will receive friends from noon until time of service.
In lieu of flowers donations can be made to the Randolph County Humane Society, P.O. Box 785, Elkins, WV 26241.