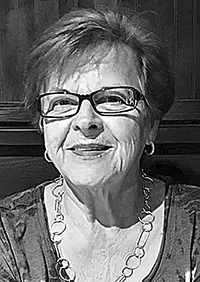 Judith "Judy" Ann Starks McCoy Baker, 76, of Droop, quietly departed this life Saturday, June 24, 2023, at home with her daughters by her side.
Judy's daughters learned from her that there really are angels on this earth, because their mom was one of them.
Judy was a kind, strong, and generous lady who would go out of her way to help others. She loved gardening and the outdoors. Her greatest joy on earth was being a grandmother. She loved all children, and they knew they were always loved when they were in her company. Her nieces and nephews loved going to visit Aunt Judy where they could have bonfires, play in the dirt, and just be themselves. She has been described as a favorite sister, favorite aunt, and, absolutely, the best mom.
Judy was born February 4, 1947, at Droop, and was a daughter of the late Woodrow Wilson Starks and Neva Mae Cutlip Starks.
She attended the one room West Droop School and graduated from Hillsboro High School. She was a retired Hairstylist and Cosmetologist, receiving her education from Beckley Beauty Academy. Judy was a member of Mt. Olivet United Methodist Church.
In addition to her parents, she was preceded in death by her first husband, Don McCoy; second husband Doug Baker; three brothers, Gail Cutlip, Jerry Starks, Doug Starks; and one sister, Brenda Rohrer.
Her kindness and compassion will be cherished by her daughters, Stephanie Burns (husband, Doug), of Marlinton, and Heather Barton (husband, Jason), of Parsonsburg, Maryland; three grandchildren, who were her world, Chad Burns of Bridgeport, Alexandria "Allie" Burns, of Raleigh, North Carolina, and Rachel Burns, of Marlinton; three sisters, Sharon Reid, Linda Dean and June Sura; and one brother, Charles Starks; as well as many nieces and nephews whom she dearly loved.
Funeral service will be held Saturday, July 1, 2023, at 3 p.m. at Lantz Funeral Home in Buckeye, with Pastor Pete Scott officiating.
The family will receive friends from 1 p.m. until time of service.
Online condolences may be shared at lantzfuneralhome.com