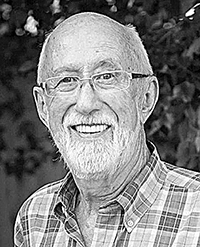 On Saturday, May 27, at 4:45 a.m., John Ligon Coyner peacefully passed away of natural causes in Chester, Virginia.
He was 88 years young.
Born in Clover Lick, he was a son of the late Rosemary Crawford and Jacob Coyner. 
John attended West Virginia University where he was voted the WVU Mountaineer mascot in 1954. He was very proud to be the first Mountaineer from Marlinton. During a game against rivals Pittsburg, John chased the Pittsburg Panther up the goal post and goosed him with his flintlock rifle, sending the crowd into a frenzy. WVU won the game. 
John married Sandra Jo Boyd, of Fairmont, (Miss West Virginia '59), in 1961 and had three children with her: John Coyner Jr., Boyd "Bo" Coyner and David "Kam" Coyner. John's second wife was Angie Mclung. His third wife was Laurie Cox whom he married in 1993 and was happily married until she passed away three years ago.
He had a very long career in radiology, working for more than 60 years until he was 85 years old. He worked at Walter Reed National Military Medical Center in Washington, D.C.; followed by a stint as a radiologist in the US Army stationed in Heidelberg, Germany, where he reached the rank of Lt. Colonel. He later worked in Fairmont, Ponca City, Oklahoma, and Wichita Kansas.
In addition to his parents, he was preceded in death by a son, David Kammert "Kam" Coyner (2022); and a sister, Margret Ann Chambers.
John is survived by his two children, John Ligon Coyner, Jr, of Midlothian, Virginia, and Boyd "Bo" Coyner, of Amsterdam, Holland; and five grandchildren, John Ligon Coyner III, Theodore Scott, Mila, Leo and Ever Coyner.
Our father lived life the same way you ride a rented scooter when you are a teenager on vacation –  full throttle with occasional moments of slamming on the brakes.  The main lesson he taught by his way of doing things was to squeeze as much out of life as you can; and never give up. Our father had plans to come to Holland next month and go to Machu Picchu this summer. So, for the record, Dad never gave up. Unfortunately, his body finally did. 
May our father's memories live on in our hearts, our minds and the echoes of our deep laughter. 
In lieu of flowers, please donate to Traditions Health Hospice Care, 10128 W Broad St #J, Glen Allen, Virginia 23060.
Obituaries are published free of charge up to three column inches with a $5 per column inch charge thereafter.