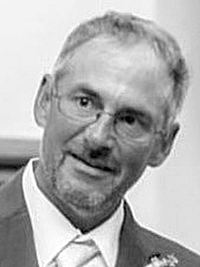 Jeffrey Steven Howe, age 61, of Pocahontas County, passed away August 17, 2022, in Baltimore, Maryland, after battling a rare rheumatology disorder for the past five months.
Born October 4, 1960, in Cleveland, Ohio, Jeff was a son of the late William Otis Howe and Beatrice Hileman-Grimes, and step-father, Dennis "Bud" Grimes.
He is survived by his only daughter, Muranda Morgan, and husband, Ross, of Elkins; companion, Virginia Deputy; siblings, Becky and Jimmy Simpson, Mike Grimes, Jennifer and Mark Austin, Sharron Hileman and Kim Wilfong, Tammy and Robert Parrish, and Vickie Brewer; a granddaughter, Rylan Morgan; and his faithful dog, Molly.
Jeff worked in construction, mostly industrial, and was part of some amazing projects. He took pride in helping to construct the Bath County Dam, the Green Bank Telescope, the Mount Storm Wind Farm, and repairs to the Fort McHenry Tunnel, just to name a few. Jeff loved to spend time in his shop, especially restoring classic cars. He loved fixing the body, painting, building motors and, most of all, the test drive. He loved to make things go fast and look faster. He also enjoyed listening to bluegrass music – especially around a campfire – and all things outdoors, from gardening to hunting to riding Razors to just spending time with his dog, Molly. Jeff touched the lives of many, whether he picked you up in a time of need or just helped you get the timing right on that old Chevy, he will be greatly missed by all who knew him.
The family thanks everyone who called or visited with him during his hospital stay; hearing from an old friend meant the world to him.
Funeral service will be held 1 p.m. Thursday, August 25, 2022, at Lantz Funeral Home in Buckeye. Burial will follow in Stony Bottom Cemetery.
The family will receive friends at the funeral home Thursday from 11 a.m. until time of service.
Online condolences may be shared at Lantzfuneralhome.com