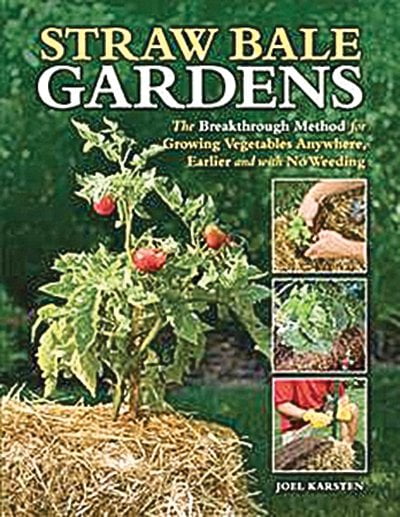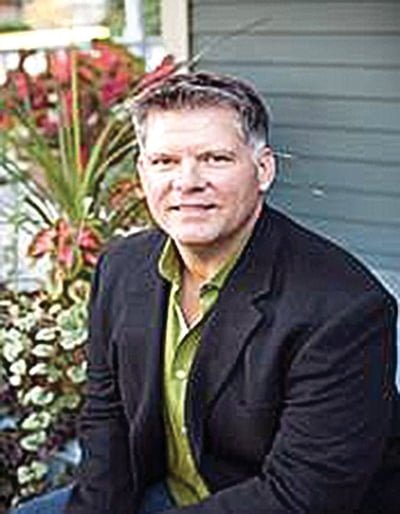 Jaynell Graham
Editor
A walk through a Farmers Market offers not only an opportunity to purchase fresh, locally grown produce, but the visual enjoyment gained by the sight of an array of fruits, vegetables and flowers can make one yearn for their own garden, just outside the kitchen door.
Some people in this area are fortunate enough to have varying sizes of garden plots, while others appease their yearning with container gardens on porches or patios.
The younger generation has shown a great interest in growing their own food, but often lack the space to do so.
But Joel Karsten, pioneer and author of several books on Straw Bale Gardening, can help you establish a productive and convenient gardening space, which brings with it a sense of accomplishment and as well as a sense of self-sustenance.
Karsten began teaching Straw Bale Gardening as a community education class in the spring of 2008, and has since become a popular instructor for many school districts around the country – teaching in classroom settings as well as at garden shows and seminars.
But you need not attend one of his seminars to learn his techniques, he brings the process to you within his published works on the topic.
His book, Straw Bale Gardens, will guild you through the entire process in a step-by-step format.
This growing season is nearly at its end, but if you are tempted to try straw bale gardening, you will have all winter to hone your mental skills, and put it all to practical use in the spring.
Karsten introduces this alternative way of gardening on his website:
"Straw Bale Gardening is a simply a different type of container gardening," he writes.  "The main difference is that the container is actually the straw bale itself, held together with two or three strings, the outside crust of the bale serves as the container. Once the straw inside the bale begins to decompose, the straw becomes "conditioned" and ready to plant.  The step-by-step process of conditioning creates an extraordinarily productive, warm, moist and nutrient rich rooting environment for young seedlings.  Getting the straw bales conditioned is an essential part of the process, and should be started approximately two weeks prior to the target planting date in your area.  This planting date varies greatly depending on where you are in the world but this gardening technique works anywhere in the world for seasonal spring/summer or for winter gardens.
"Growing a successful vegetable garden is difficult enough if you have terrific soil to plant your garden into, but with poor soils it can be virtually impossible. Straw Bale Gardening allows anyone, even those with the worst soil conditions, to grow a terrific garden that is productive and much less labor intensive.  For anyone with difficulties bending over or doing the heavy work that is usually involved in turning the soil and digging to plant and harvest crops, the raised height of the Straw Bale Garden makes those chores obsolete. Harvesting potatoes means simply knocking over the bale at the end of the season and picking them up, no digging required. Weeding will also become a thing of the past, there are no weeds in a Straw Bale Garden. 
"Stop spending money buying containers, building raised beds, and buying special planting mixes," Karsten writes. "You will find that minimal maintenance will result in maximum production, through Straw Bale Gardening.  It will completely change everything you thought you already knew about gardening.  Try this method, and I assure you that soon you will understand why this is the perfect way to grow a vegetable garden."
Karsten is a certified Nursery and Landscape Professional through the Minnesota Nursery and Landscape Association.  He also holds a BS from the University of Minnesota in Horticulture Science; however, he says his real gardening knowledge has come from 35 years of being in the garden. He started pulling weeds at four years old in the garden with his Grandma Josephine, who taught him everything a good vegetable gardener needs to know in order to grow an extraordinary garden every year. His father, Glen Karsten, owner of Karsten Nursery, has been growing and selling trees and shrubs for many years at his tree farm near Worthington, Minnesota. Karsten spent many hours working in his father's nursery fields, planting and harvesting, until he made his escape to the University of Minnesota, for a four year "vacation" from the farm.  
You can read about how he pioneered the Straw Bale Gardening Method in his newest book Straw Bale Gardens Complete published by Quartos Publishing Group USA's imprint Cool Springs Press. His books have been awarded international acclaim in the field of Practical Horticulture. 
Current and upcoming books include: Straw Bale Gardening, 2012; Straw Bale Gardens, on Cool Springs Press 2013 and in 19 foreign translations; Straw Bale Gardens Complete, on Cool Springs Press 2015 and in 20+ foreign translations; Straw Bale Solutions, on Cool Springs Press 2018 release date.
Learn more by visiting his website and Facebook page: StrawBale Gardens.com and Facebook.com/LearnToGrowAStrawBaleGarden.
Information courtesy of Joel Karsten