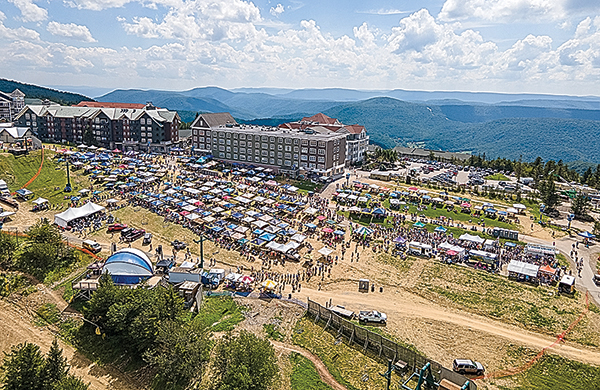 The Snowshoe Foundation hosted its 14th annual Treasure on the Mountain raffle Saturday, August 5, at Snowshoe Mountain Resort with 5,000 ticket holders hoping to win a share of more than $350,000 in cash and prizes. The event was a complete sell out once again, and more than 3,000 attendees enjoyed a day of beautiful sunshine, delicious local food and numerous side raffles – in addition to a main prize pool that included trucks, SUVs, ATVs and a top cash prize of $30,000.
Voras Haynes, President of the Board of the Snowshoe Foundation, was pleased with the turnout.
"This was an incredible day, not only for the Snowshoe Foundation, but the entire community," he said. "I also want to give a big shout out to all the local businesses that helped with our event. We had great volunteers and tons of food provided by local civic organizations, school groups and local vendors."
Treasure on the Mountain is Snowshoe Foundation's largest annual fundraiser bringing in roughly $300,000 for grants and scholarships the Foundation funds throughout the year in Pocahontas, Webster and Randolph counties. Since its inception, the Snowshoe Foundation has given more than $4 million to organizations and students in support of their mission of elevating the quality of life for all local residents.
"I'm just so thankful for everyone who gets involved with this event" said Dave Black, the Snowshoe Foundation's Executive Director. "I can't say enough about all the community support that makes this possible. The crew here at Snowshow, all of our volunteers, Davis Trust, our corporate sponsor, our Board of Directors – everyone is amazing. A lot of folks work tirelessly to make Treasure on the Mountain a success. I hope they feel as proud as I do about the good things this event enables us to do in the community, because they are certainly a huge part of it."
Next up on the Snowshoe Foundation's event calendar will be their Autumn in the Alleghenies fall fundraising dinner on October 14. The Foundation's Fall Grant Cycle kicks off September 5 and is open to non-profits and schools in the tri-county area who have funding needs.
To keep up to date on Foundation news or apply for a grant, visit their website at snowshoefoundation.org