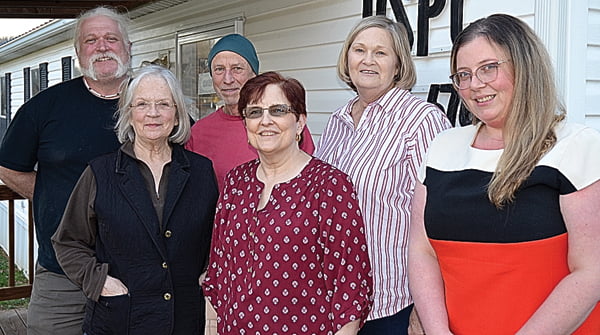 Laura Dean Bennett
Staff Writer
Since its founding in 1998, the Humane Society of Pocahontas County – a non-profit 501c(3) organization run by a small group of volunteers – has been instrumental in spaying and neutering thousands of pets and strays in Pocahontas County.
"Our main focus is reducing the number of unwanted animals wandering around in our county," HSPC president Chip Adkins said.
"And I think we're making a dent with our spay/neuter voucher program.
"We want to get the word out that spaying and neutering our pets is one of the most important things we can do to keep the animal population in Pocahontas County healthy and safe."
The HSPC is working on an educational program for young people that teaches the responsibilities of pet ownership and the importance of population control.
It will also discuss possible volunteer opportunities and career options in the animal sciences.
the responsibilities of pet ownership and the importance of population control.
It will also discuss possible volunteer opportunities and career options in the animal sciences.
As a retired educator, HSPC member Michelle Jeffers will be spearheading the program and promises that it will not only be educational, but entertaining.
"We're excited to be organizing presentations about animal welfare for students of all ages," Jeffers said. "It's important to teach young people how to properly care for animals."
The abandoned and feral cat population has long been a concern to the HSPC, and they have developed a multi-layered approach to tackling it.
"One of our primary missions has always been promoting spaying and neutering," HSPC treasurer Trish McNaull said.
"It's a critical step in preventing the unwanted litters and untold suffering of so many animals."
Anyone who asks for assistance with spaying or neutering a pet or a feral cat who has taken up residence at their property may receive a spay/neuter voucher, which significantly reduces the cost of these procedures.
Because they appreciate the importance of controlling unwanted animal population growth, several veterinarians have partnered with the HSPC and are pitching in to do their part.
"We really appreciate the fact that our vets work with us on this," Adkins said. "We couldn't do it without them."
HSPC spay/neuter vouchers are accepted by local veterinary clinics – Greenbrier Veterinary Hospital with offices in Lewisburg and Marlinton and Frankford Veterinary Hospital with offices in Frankford and Marlinton.
The vouchers are also honored by several other veterinary practices – Seneca Trail in Lewisburg, Valley Vet Clinic in Sinks Grove, All Creatures Great and Small in Elkins and Faithful Friends in Franklin.
"Because we have been fortunate enough to receive grants which help with this expense, right now, there's no limit to the number of vouchers we can write," McNaull explained.
"I wrote over 500 vouchers in 2018 and will write that many, or more, again this year. People just need to call us – just call 304-799-6767 and leave a message including your name and phone number.
"I retrieve the messages and will call you back within a couple of days and write the voucher for you," McNaull added.
Helping to take care of Pocahontas County's animals takes time and, of course, a lot of money.
"We receive some funding from the County Commission, and we're so grateful for it," McNaull said. "But we try not to be a burden on the county's budget.
"These days, most of the organization's funds come from bequests, fundraising, private donations and, especially, grants."
McNaull has become the grant-writing guru of the organization, spending almost as many hours researching and writing grants as she spends rounding up feral and homeless cats and helping to get them ready to be adopted.
Reducing and assisting the feral cat population in the county has long been a focus of the Humane Society.
They use a system called "TNR," which stands for trap, neuter and return.
The program is labor intensive, but it's making a difference in the number of cats forced to eke out a bare-bones existence alone in the wild or in community cat colonies.
The TNR system works like this: the trapped cats are altered and returned to where they came from – if there is someone there who will take responsibility for them, providing food, water and year-round shelter.
This is an essential part of the process.
As a last resort, they are moved to the shelter and homes are found for them.
"We will arrange TNR for one cat or multiple cats living in someone's yard, or at someone's farm, or for 20 cats which may be hanging around a business," McNaull explained.
"Some people like having a mouser around.
"Healthy, neutered cats living in and around our barn lots or businesses are effective for non-toxic rodent control."
The HSPC is always looking for volunteers to assist with the TNR program, especially in the northern end of the county.
McNaull and husband, Mike, work regularly with Adkins, other HSPC members and county residents to get the never-ending TNR work done.
"There are a few people who regularly help us with the TNR work, but, as you can imagine, it's a very time consuming process," McNaull said.
"And it's not just trapping the animals, which is an adventure in itself, but we also drive them to and from the vet's and, sometimes, we have to care for litters of kittens or an animal who needs more medical treatment.
"We could really use a hand with the TNRs."
There are many people and businesses in the community who are helping to care for the animals of Pocahontas County.
Marlinton businessman, Sherman Gibson, has, for years now, been supplying the corn purchased at the Greenbrier Grill for feeding the ducks that gather on the Greenbrier River within sight of the restaurant's patrons.
Gibson's corn is bagged by HSPC volunteers and sold to Greenbrier Grill customers who, while they are enjoying feeding the ducks, are also supporting the Humane Society.
Humane Society secretary Nancy Maddalena said that you don't have to become a member of the Humane Society to help with their ongoing mission.
"This year we are establishing the "Friends of the Humane Society," for people who can help us in whatever way they are able," she said.
"There are all sorts of things that people can do."
Unfortunately, there are sometimes cases of animal abuse and neglect in the county, and the HSPC gets its share of calls from concerned citizens about these sad situations.
"We don't handle these cases ourselves," Adkins explained. "We're fortunate to have a county Animal Control officer, and we direct these calls to him."
Many people confuse the Pocahontas County Humane Society with the Pocahontas County Animal Shelter.
Although they sometimes work hand-in-hand, these two entities are completely separate. The shelter is maintained with county funding and private donations and managed by the county Animal Control officer.
If anyone wants to adopt an animal or needs to report abuse or neglect, they can reach the Animal Control officer by calling the Animal Shelter at 304-799-4209.
"Pocahontas County has a good shelter – one that the people of this county can really be proud of," Adkins said.
"Anyone who has visited it will tell you that it is a well-run facility. And it's run by people who really care about the animals.
"We have a good relationship with the shelter, and we really appreciate what they do."
The Pocahontas County Animal Shelter is located in the old ARC building at 300 1/2 Second Avenue in Marlinton.
It's a short walk away from the building which houses the Humane Society of Pocahontas County.
The HSPC's home is a white building with a blue roof located at 410 Second Avenue. The same building also houses the Marlinton office of Frankford Veterinary Hospital.
HSPC holds its monthly meetings there on the second Wednesday of every month at 5:30 p.m. Membership costs a dollar.
Anyone interested in joining the "Friends of the Humane Society" or becoming a member of the HSPC is welcome to come to a meeting. Call 304-799-6767 for more information or leave a note on their Facebook page.
For dog and cat spay/neuter voucher requests, call the HSPC at 304-799-6767.
Laura Dean Bennett may be contacted at ldb@pocahontastimes.com