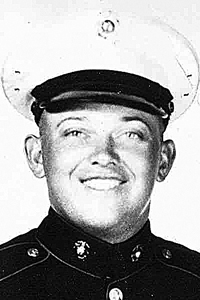 Hubert H. McKenney, age 91, of Warren, Ohio, peacefully passed away Tuesday, February 28, 2023.
Born May 9, 1931, in Indian Draft, he was a son of the late Leo and Lottie McKenney.
Hubert attended a one-room elementary school in Indian Draft, and graduated from Marlinton High School in 1949. He proudly served in the United States Marine Corps from 1952-1954 during the Korean Conflict, being awarded the National Defense Medal, Korean Service Medal and the United Nations Service Medal. He worked as a Heat Treat Furnace Operator at Copperweld Steel Company and retired after 32 years.
Hubert was always known to be a very generous person and was always available to help anyone who needed it. He was an avid outdoorsman, and enjoyed hunting and fishing. He loved to travel and took many trips to different states. He took a cross country trip in 1998 and numerous trips to North Carolina. He visited his hometown in West Virginia for weeks at a time.
In addition to his parents, he was preceded in death by his wife of 50 years, Mary H. Ketter McKenney; and brother, Warren Dale McKenney.
He is survived by his children, Nora F. McCombs, Kevin D. (Peggy) McKenney and David M. McKenney; three grandchildren, Charles (Kimberly) McCombs, Cassie (Lee) McCombs and Hunter B. McKenney; four great-grandchildren, Trenton McCombs, Charlee McCombs, Emmett McCombs and Katie Sweeley; siblings, James Curtis (Joanne) McKenney, Norma Sue Carpenter, Robert Lyle (Jean) McKenney, and Samuel Raye (Frances) McKenney; many nephews and nieces; and special friend, Judy Beckwith.
A private funeral service was held, and a celebration of life will be held at a later date.
The family is in the care of Lane Funeral Home, Roberts -Clark Chapel in Warren, Ohio.
Online condolences may be shared at www.lanefuneralhomes.com
In lieu of flowers donations can be made to Trumbull Mobile Meals Inc., 323 E. Market St. Warren, OH 44481 or Southington American Legion 4200 Herner County Line Rd. Southington, Oh 44470.