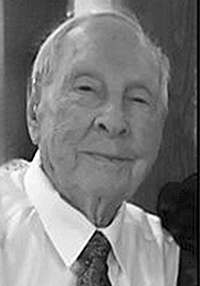 Harold Lloyd Crist, age 99, of Arbovale, peacefully passed away at his home Saturday, May 20, 2023, surrounded by his family.
Born May 14, 1924, he was the eldest son of Estes Fennon and Janet Woods Crist.
On July 23, 1949, he married Betty Ruth Conrad and they began a 67-year adventure together. They raised six children and their family grew to include 14 grandchildren, 18 great-grandchildren and one great-great- grandson. Harold was fortunate enough to meet every member of every generation.
Harold was a WWII Veteran serving in the U.S. Navy as a PT Boat Signalman in the Pacific Theater from 1943-1946. When he returned home in 1946, he pursued his college education at West Virginia University, receiving a bachelor's degree in zoology and a master's degree in education. He also attended Marshall University, doing graduate work in physical science. He began his first teaching position in Glen Burnie, Maryland, where he remained for five years.
In 1955, with their growing family, Harold and Betty Ruth returned to Pocahontas County to raise their children. Harold began teaching the sciences and history at Green Bank High School in 1955 and later taught chemistry and physics and served as Dean of Students at the new Pocahontas County High School. He retired from teaching in 1983 and could remember, with fondness, most of the students he taught, special stories and memories. He also worked part-time, and later full-time, as a telescope operator at the National Radio Astronomy Observatory in Green Bank.
Harold served in many civic organizations throughout his life. He was a lifelong member of the Arbovale United Methodist Church and over the years served as a trustee, Sunday school teacher, superintendent and lay speaker.
He was a founding member of the Arbovale-Pine Grove Men's Brotherhood. He was a member of the Durbin Lion's Club for 56 years, served as past president and was the 2011 Melvin Jones recipient. In 2013, he was the Pocahontas County Volunteer of the Year. For 38 years he was a member of the American Legion Allegheny Post 117 where he, at one time, served as commander. He proudly served in the Pocahontas County Honor Corps for 28 years with honor and distinction until the time of his passing. He was proud to be a part of each of these organizations, but his life with Betty Ruth and their growing family was his greatest treasure and blessing.
As a well-loved and respected pillar of the community, Harold had a zest for life and learning, was always up for an adventure or a visit from a friend and loved spending time in his garden. Harold was the consummate writer, penning nine novels and many poems and hymns. He even held patents on some of his inventions. He loved every type of music and passed on that love and appreciation to his children. After retirement, Harold took up the game of golf and shared that with his sons and grandsons. At 98 years old, he still played the game. Throughout the changing world from his youth in the late 1920s to today, he embraced — and was fascinated by — technology. The cell phone amazed him the most with the way everything was available at your fingertips.
In addition to his parents, he was preceded in death by his wife, Betty Ruth Conrad Crist; sisters, Irene Edwards and Peggy Fanshaw; and brothers, Gene Crist and Jerry Crist.
He is survived by his six children, Robert Crist (Cathy), Mike Crist, Renae Wooddell (Rick), Anita Watson, Betty Ann Doyle, and Melinda Wallace (Dillard); 14 grandchildren; 18 great-grandchildren; one great-great grandchild; sister, June Jonese, of Arbovale; and many nieces and nephews.
The family will receive friends from 5 to 7 p.m. Friday, June 2, 2023, and from 11 a.m. until noon Saturday, June 3, at the Arbovale United Methodist Church.
Funeral service will be held at noon Saturday, June 3, 2023, at the Arbovale United Methodist Church. Burial service will follow at the Arbovale Main Cemetery with full military honors.
In lieu of flowers, the family requests any donations be made to the Pocahontas County Veterans Honor Corps c/o 601 Edray Rd, Marlinton, WV 24954; the Durbin Lions Club, c/o PO Box 176, Green Bank, WV 24944; or the Arbovale United Methodist Church c/o 3473 N. Fork Loop, Green Bank, WV, 24944.
Wallace and Wallace Funeral Home in Arbovale is in charge of arrangements.
Online condolences may be shared at www.WallaceandWallaceFH.com