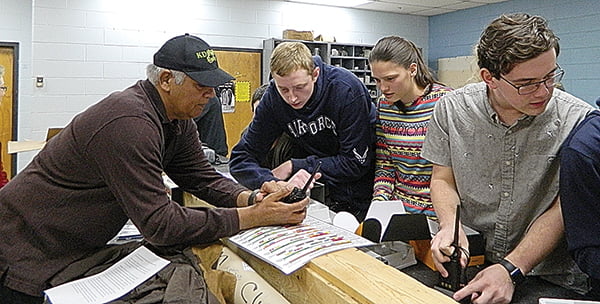 By M. Gayle Boyette
You could feel the excitement in the room as Pocahontas County High School students gathered recently to learn about an exciting project being launched at their school.
Eight Rivers Ham Radio Club members Rudy Marrujo, Jan Cozart and Lee Wolfe visited PCHS where they were met by a large group of bright-eyed and anxious students who want to learn more about becoming ham radio operators.
Amateur (ham) radio is a medium by which people can communicate on specific frequency ranges designated by the FCC for personal, hobby, educational/training and emergency purposes. During the demonstration, students were given the opportunity to handle the equipment and were eager to ask questions.  
The program is the brainchild of Jean Srodes, who works with students in Pocahontas County. Srodes came up with the idea of bringing ham radio to the school while exploring STEM activities.  
Her idea for a student-operated ham radio base was presented to the Eight Rivers Ham Radio Club, and club members were immediately on board to purchase equipment and to establish a radio base at the school.
Although this is primarily a STEM Club activity, the opportunity is open to all interested students.  
"The response to this was overwhelming," Srodes said.
Funding for the program came by way of a grant from the Snowshoe Foundation.
Srodes has created other after-school programs such as golf, radio broadcasting, quilting, horticulture, bicycling and horseback riding.
Principal Joe Riley, as well as the math and science teachers, also offered their support for the project and have been very helpful in getting a STEM lab established at PCHS.  
"This is a great addition to the STEM lab," Riley said.  
Riley talked about how ham radio operators benefit the county during emergency situations or disasters.
He also addressed the importance of creating a communication connection for students who are interested in improving their Spanish language skills or who want to make a connection with people of other cultures.  
"Ham operators can talk to people all over the world," Riley said, "and they can even talk to the International Space Station."
Students will have the opportunity to obtain an FCC license to operate a ham radio.  Students who obtain their license will receive a handheld radio.
The base station is currently being installed at the high school.
Transmitting will begin once the base antennae is in place.