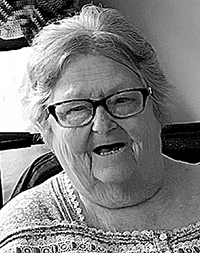 Hallie L. Thompson Sharp, 82, of Medina, Ohio, passed away Wednesday, August 30, 2023.
Born March 1, 1941, at Thornwood, she was a daughter of the late John S. Rexrode and Mary A. Thompson.
In addition to her parents, she was preceded in death by her husband, John Sharp; sisters, Linda Sheets, Loretta Blankenship and Thelma Mauer; brothers, John Thompson and Arthur "Keester" Rexrode.
She is survived by her daughters, Mary Weyandt, and husband, Chris, of Medina, Ohio, and Genita Turner, and husband, Jack, of Deerfield, Ohio; grandchildren, Brandon Weyandt, of Medina, Ohio, Elizabeth Lopez Garcia, of Canton, Ohio, and Angela Holona, of Stow, Ohio; great-grandchildren, Joseph Heeter, of Alliance, Ohio, Isiah Lopez-Garcia and Elijah Lopez-Garcia, both of Canton, Ohio, Trevor Holona, of Hartville, Ohio, and Tearsa Woodhouse, of Akron, Ohio; sisters, Wilma Warner, Maxine Warner and Barbara Taylor; brothers, Charlie Rexrode, Jefferson "Pete" Rexrode, Terry Rexrode and Kenneth Rexrode.
A graveside service was held Sunday, September 3, 2023, at Wilmoth Cemetery on Old Pike Road in Bartow with Pastor Julian Rittenhouse officiating.
Online condolences may be shared at WallaceandWallaceFH.com