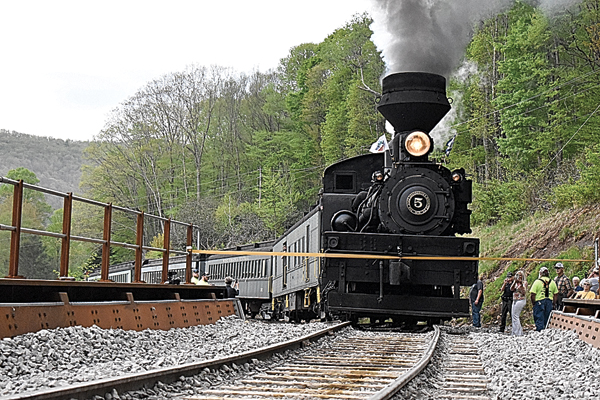 Suzanne Stewart
Staff Writer
For the first time since the 1985 flood, which demolished a large portion of track, a passenger train departed from Cass on a journey to Durbin. Prior to its official inaugural run, which took place last Saturday, the train carried West Virginia Department of Transportation and Division of Highways staff, dignitaries, tourism personnel and more to the Trout Run bridge for a dedication of the new Cass to Durbin ride.
Shay No. 5, with Noah Barkley as its engineer, pulled four passenger cars and a caboose along the Greenbrier River on new tracks – a journey that was 10 years in the making. Fittingly enough, Barkley's great uncle, Artie Barkley, was one of the passengers. He was also the last engineer to take trains from Cass to Durbin prior to the '85 flood.
When the train arrived at the Trout Run bridge, the passengers disembarked and watched as Shay No. 5 broke through a ribbon, performing a "ribbon cutting" on the new bridge, making the new run official.
Before returning to Cass, those responsible for the newly restored track and new bridge were honored by Durbin and Greenbrier Valley Railroad president John Smith, West Virginia Division of Natural Resources director Brett McMillion, West Virginia Department of Transportation Division of Multimodal Transportation Facilities Commissioner Cindy Butler and West Virginia Department of Transportation Secretary of Trans- portation Jimmy Wriston.
"We wanted to reconnect Cass with Durbin to give more options at Cass other than summertime rides," Smith said. "So hopefully this blossoms out into something. In the meantime, to get here, it was easier said than It took a whole bunch of people. I want to thank everyone who has had a part in this."
McMillion shared his praise for all those involved in the hard task of rebuilding and restoring the portion of track that was washed out nearly 40 years ago by flood water.
"I can't imagine the devastation that flood caused, but the work that was done to reclaim it to get us back to this level, to provide this type of tourism opportunity, I'm amazed," he said. "I can't give enough gratitude."
Smith explained that, when the project began, there was between 500 to 600 feet of track dangling in the air from where the trestle and surrounding land was washed out. The initial restoration plan called for a culvert, but Smith said there was no way the run would have worked without a new bridge, which was built through a collaboration between DVGRR and the Department of Highways and Department of Transportation.
"It's not exactly your standard department of highways project because nothing was convenient," he said.
"Everything came at least two miles by rail, sometimes, eight or nine miles, depending on what the product was. There was all kinds of weather. I think you'll hear some of the stories, some of the guys were wading through snow trying to get up here. It was pretty crazy stuff."
Butler also expressed her gratitude and said the collaboration worked so well because of the new One DOT vision led by Wriston.
"Projects like this exemplify the One DOT aspect," she said. "You couldn't have a project of this magnitude without it. I said before, it takes a village to pull off something like this, and it has. I'm so proud and thankful to you all."
Butler presented several individuals with certificates of appreciation from the office of Governor Jim Justice, who was unable to participate in the inaugural run. She recognized Jimmy Wriston, Steve Sherrod, Jim Schoonover, Elwood Williams, Max Scott, Dave Pancake and Steve Conley.
Wriston ended the presentations by enthusiastically recognizing the individuals who put their blood, sweat and tears into building the Trout Run bridge.
"This is quite an accomplishment," he said. "These guys in these yellow shirts, they have memories that they will be telling their great-grandchildren about this bridge. This is THE project."
Wriston also presented certificates of appreciation to the following: Todd Schoonover, Katrina High, Jamie Rossi, Greg Pennington, Kevin Lewis, William Phillips, Larry Day, Chris Conrad, Scott Cooper, Tommy Collins, B.J. Fisher, Tom Powers, Derek Fuller, Brad Hart, Cameron Barkley, Jason Tharp, Doug Borror, Chesley Koerner and John Fausch.
The Greenbrier Express excursion is 15 miles from Cass to Durbin, running alongside the Greenbrier River and through some of the lush forest that attracted logging companies to the county a century ago. The excursion includes a respite in the historic town of Durbin where travelers can enjoy lunch and the shops of the town before returning to Cass.
For more information on ticket availability, visit www.mountainrailwv.com