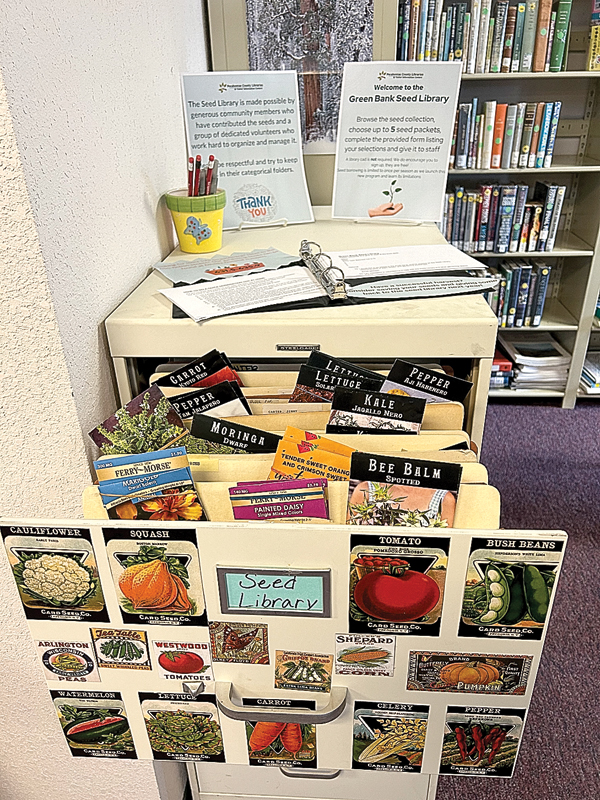 Suzanne Stewart
Staff Writer
Public libraries have expanded to include so much more than books. Here, in Pocahontas County, visitors can access the Internet, check out fishing poles or astronomy kits, and experience the lifecycles of tadpoles to frogs, and cater- pillars to butterflies.
Now, at Green Bank Public Library, visitors can select seeds for their garden from the seed library.
After a successful workshop about seed saving last fall, librarian Hallie Herold said there was a big interest in the community to have a seed swap at the library. Several volunteers worked with Herold to set up a seed swap, which took place in March, and that expanded to the idea of a seed library.
"We did an in-person seed swap, and it was a really nice get together," Herold said. "We had a small group of people who brought the seeds they had to offer and we decided that we'd like to take the leftovers and create a running seed library that would be accessible to anybody in the community."
One volunteer reached out to a few companies and asked for donations of seeds to supplement the collection and soon the seed packets were piling up.
"Southern States, Baker Creek, Heirloom Seeds and Ferry-Morse donated seeds for the seed swap," Herold said. "Since then, we have been organizing all of the seeds into categories and separating them. Because you get quite a quantity with seed packets, we wanted to make this accessible to individual allotments, so we separated the seed packets into a reasonable number for an individual to take."
The seed library is located in a filing cabinet near the West Virginia section of the library, and will be noticeable by all the colorful seed packet magnets on the drawer. Retired Durbin librarian Nancy Egan downloaded the graphics and Herold printed them on magnets to give the seed library some pizazz.
The seed library is very easy to use.
Herold explained that each individual is allowed to take up to five seed packs and is asked to fill out a short form of what they took so the library can keep track of the popular items.
"We have a little bit of everything," she said. "We were just going to lump them into 'vegetables,' 'flowers,' and 'herbs,' but we had so many varieties. There's a separate folder for tomatoes and for beans and for squash, melons, flowers, herbs, all kinds of stuff.
"There's quite a selection," she added. "I'm looking forward to grabbing a couple things and trying some new things this year."
Herold gives praise to the volunteers who have helped make the seed library a reality and is excited to see how the community responds.
"We have a great group of volunteers that have helped organize it and have committed to manage it, because seeds do go bad eventually, so that's something we'll have to keep up with," she said. "I'm excited to see how it grows because a big incentive here is to get people interested in gardening that may not be already, or people that already garden – give them the opportunity to try something new.
"It's an easy way to stop in and you can pick out five different things that maybe you've never tried before and then to really encourage seed saving so that it could be sustainable," she continued. "We've got a great start with the people that participated. They had a lot of offerings and then the companies that gave seeds were very generous."
The seed library will open Friday, April 21, and will be available for browsing when the library is open – Tuesdays through Saturdays.