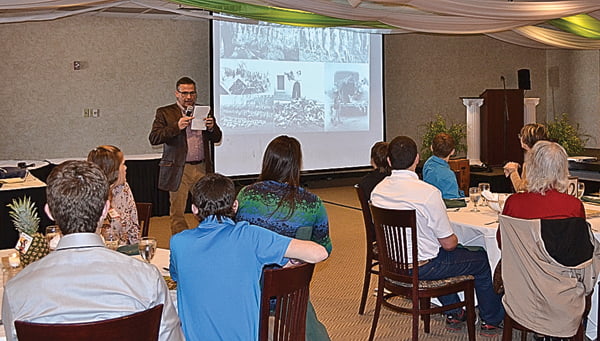 Suzanne Stewart
Staff Writer
Eighth grade students from Green Bank Elementary-Middle and Marlinton Middle schools got a glimpse of the business world last week at the 25th annual Eighth Grade Luncheon at Snowshoe Mountain Resort.
The luncheon gives the students an opportunity to learn more about career options, ways to navigate the business world and how important the tourism industry is to Pocahontas County.
Guest speaker Cully McCurdy, a district biologist with the National Wild Turkey Federation, gave a brief history of wildlife management in Pocahontas County, as well as ways wildlife and resource management has benefitted Pocahontas County.
In a county with a large percentage of state and federally owned land, it is important to make sure the resources, including timber, water and wildlife, are properly monitored.
At one time, McCurdy explained that management was not a great concern in the country.
"Pocahontas County was a perfect example of an area that was just pillaged, and there were terrible examples of resource mismanagement all over the landscape," he said. "Way too much timber was cut. There were not the Best Management Practices in place that we have now. We didn't protect our water the way we should have, and we really didn't respect the values that we needed to protect the landscape."
That all changed in the 1930s when sportsmen, hunters and fisherman asked to be taxed and to have that tax money set aside for wildlife and resource management. The legislatures passed the tax and the funding was administered by the U.S. Fish and Wildlife Services.
Around the same time, Pocahontas County was beginning to find its own ways to support wildlife. At Watoga State Park, where the swimming pool is now located, there was a fenced-in area where Max Holbrook raised turkeys, deer, Canada geese, quail, grouse and much more.
"That was one of the primary areas for propagation in West Virginia," McCurdy said. "It worked pretty well for most species except wild turkey. Wild turkey would get imprinted on Mr. Holbrook. Once they were set loose in the wild and a hunter would approach them, they would run up to the hunter thinking they were going to get fed. That was the end of that."
Looking for a new way to successfully increase the population of wild turkey, county resident and research biologist R. Wayne Bailey came up with a solution.
"He decided to go to work for the West Virginia DNR, and he revolutionized wild turkey management all across the country," McCurdy said. "Mr. Bailey was a high school biology teacher, and he perfected the trap and transfer program by the use of rocket nets."
McCurdy had a rocket with him and explained that a net would be attached to four rockets and when a rafter of wild turkeys were in position, the rockets would be deployed and turkeys would be caught in the net.
Once the turkeys were caught, they were placed in individual boxes and transported to an available habitat in another part of West Virginia.
McCurdy said the boxes themselves were another innovation that came from Pocahontas County. The boxes were donated by Westvaco which was formerly the West Virginia Pulp and Paper Company that built the town of Cass.
"These boxes weren't just used in West Virginia," he said. "This was all across the nation. [Westvaco] manufactured the paper, they manufactured the boxes and these were sent to game agencies all across the United States."
McCurdy then talked about his work with black bear monitoring and management in Pocahontas County. There was a study done in the late 1990s to 2006 which monitored black bears and the number of babies they had each year.
"When these bears were trapped, they were tagged with an ear tag and they were also given a lip tattoo," McCurdy said. "Bear may lose these ear tags, but the tattoo is permanent.
"This bear study ended in 2006," he continued. "There are still bears being harvested that have tattoos. So we know the age of those bears, how far they traveled, how many cubs they've had since they were captured and that type of thing."
McCurdy left the students with the final thought that it is important to know the history of where you come from, especially if you decide to stay in Pocahontas County for a career.
"The takeaway from today is, I would encourage you to read the history – learn the history of Pocahontas County," he said. "There's a lot of great resources."
The morning also involved breakout sessions with the West Virginia Forest Service, media consultant Timothy Luce of Presidio Studios, Snowshoe Mountain Resort public relations manager Shawn Cassell and the Pocahontas County High School ProStart program.
West Virginia Forest Service ecologist and botanist Amy Coleman, timber manager Amy Mullens and resource assistant Kristen Beverage-Doss spoke to the students about the many job opportunities with the forest service. While students can expect to work outdoors with wildlife, flora and fauna, there are plenty of other positions that might not be as obvious.
The range of jobs at the forest service include: landscape architect, public affairs specialist, wildlife biologist, archaeologist, land specialist, recreation planner, hydrologist, computer spe- cialist, special use administrator, fisheries biologist, law enforcement officer, contracting officer, engineer, soil scientist, forester, botanist, planner, surveyor, researcher and firefighter.
Luce gave a presentation on the good, bad and the ugly of social media and how it can hinder your ability to get or keep a job. The students were shown examples of how people lost their jobs due to photos, videos or comments they made online.
While social media is helpful with certain businesses, Luce warned students that everything on the Internet lasts forever, and it can be found by potential employers down the road.
Cassell shared information on the upcoming UCI Mountain Bike World Cup, which will end in September at Snowshoe Mountain Resort. This is the first time since 2015 the World Cup has had a stop in the United States.
Cassell said having the World Cup at Snowshoe is very beneficial for the entire county as it will attract cycling enthusiasts and participants from all over the world. The competition will expose the Snowshoe bike park to countless visitors who will hopefully return to the county to enjoy the tracks again.
PCHS ProStart teacher Teresa Mullen and four of her students spoke to the students about the ProStart program, a culinary arts class that exposes students to a wide range of recipes and foods they may have never experienced otherwise.
Mullen, the students and Pocahontas County Convention and Visitors Bureau Executive Director Cara Rose also talked about the tourism club at PCHS. The club offers field trips to tourism-related sites in Pocahontas County and West Virginia, which gives students a better understanding of the jobs and businesses linked to the tourism industry.