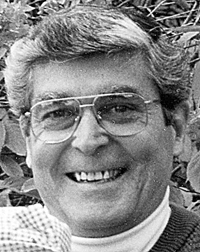 George A. "Chick" Rao, nearly 86 years of age, of Beverly, formerly of New Jersey, departed this life Wednesday afternoon, November 9, 2022, at Valentine Personal Care Home in Elkins following a brief illness.
Born Thursday, November 26, 1936, in Brooklyn, New York, he was a son of the late George Joseph and Helen DeFreitas Rao.
On August 8, 1959, at Don Bosco Catholic Chapel, he married the former Virginia "Ginger" Godwin, who survives. They had celebrated 62 years of marriage.
He was a graduate of Amityville High School in Long Island, New York, and attended Davis & Elkins College on a football scholar- ship. He also played basketball and baseball for D & E. After graduating from college, he taught at Randolph-Henry High School in Virginia for four years and then went to Lakewood High School in Lakewood, New Jersey, where he coached football, track and basketball and was inducted into the Sports Hall of Fame. He then worked as supervisor at Brick High School in New Jersey and later retired from Brick Memorial High School, where he was assistant principal and athletic director.
In addition to his parents, he was preceded in death by a son, Stephen Michael Rao; brother, Robert Rao; and sister, Lillian Remsen.
In addition to his wife, he is survived by two sons, Christopher Joseph Rao, and wife, Kimberly, of Dunmore, Anthony George Rao, and wife, Marie, of Petersburg; brother, Thomas Rao, and wife, Lorraine, of Long Island, New York; three grandchildren, Cassidy Ellen Rao, and significant other, Matth-ew Tomassone, of Winchester, Virginia, Matthew Joseph Rao, and fiancée Morgan Keck, of Marlinton, and Rebecca Anne Rao, of Petersburg; and several nieces and nephews.
George was a member of the Saint Mary of the Lake Parish in Lakewood, New Jersey, for 40 years and, since 2004, was a member of Saint Brendan Catholic Church, where he was a member of the Knights of Columbus. He was an avid sports fan and enjoyed golfing and swimming. He enjoyed being with his students and loved his family.
Funeral Liturgy was celebrated Tuesday, November 15, 2022, at Saint Brendan Catholic Church with The Rev. Father Jim O'Connor and the Rev. Mr. Raymond G. Godwin as Presiders.
Interment was in Saint Brendan Cemetery in Elkins.
Condolences may be expressed to the family at lohrbarbfuneralhome.com