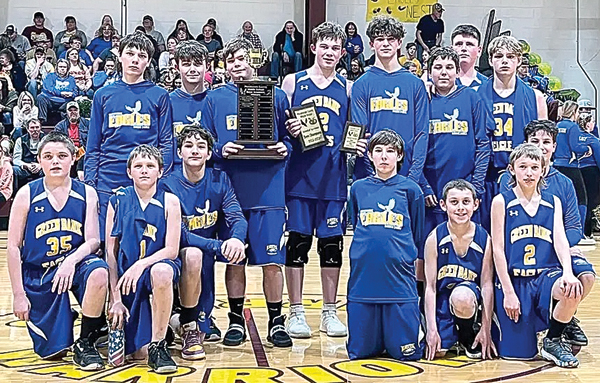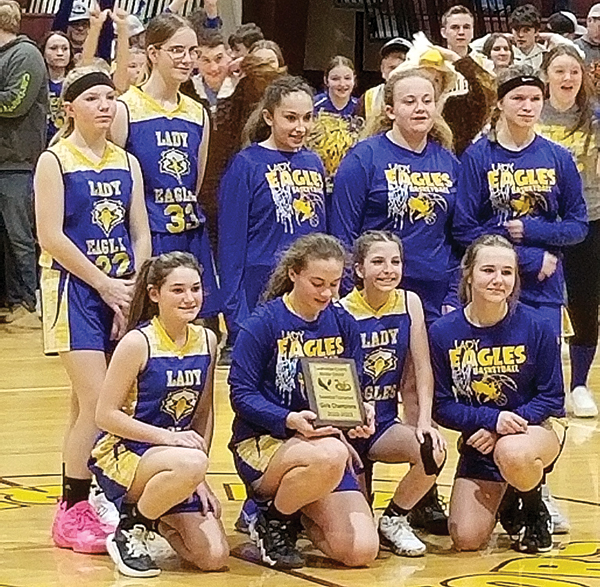 Chasity Taylor
Contributing Writer
The Green Bank Eagles took on the Marlinton Copperheads in the County Middle School Basketball Tournament February 14 at Pocahontas County High School.
These two teams were the first ones to battle it out on the court. It was a tight game for the first half, but the Eagles were able to defeat the Copperheads 34 to 25.
High scorers for the Eagles were Griffin Taylor with 13 points, and Ben Workman, for the Copperheads, with 10.  Three All tournament players were chosen for Green Bank including Griffin Taylor, Austin Price and Morgan Beverage; as well as two from Marlinton, Logan Keatley and Luke Taylor.
Eight players from each team saw playing time, with six Green Bank boys and four from Marlinton scoring.
The second game between the Lady Eagles and the Lady Copperheads was close in the first quarter, but the Lady Eagles were able to pull away in the second to defeat the Lady Copperheads 29 to 15.
High scorer from Green Bank was Allyson Taylor with 19 points and Erin Ryder with six for Marlinton.
Three All Tournament players were chosen from Green Bank, Baylee Nelson, Allyson Taylor and Riley Cassell; as well as two from Marlinton, Rya Barlow and Alexis Arbogast.
Seven players from Green Bank and 10 players from Marlinton saw playing time with six Eagles and four Copperheads scoring.
Green Bank Eagles and the Green Bank Lady Eagles also brought home both Academic trophies this year, as their cumulative GPA was higher for the season.
Eagles coaches are Tom Dennison, Chasity and Derek Taylor, Melissa Nelson, Melissa Taylor and Becky Peteete.
Copperhead coaches are Ken Beezley, Shannon Arbogast, Nevin Lucabaugh and Jeff Barlow.