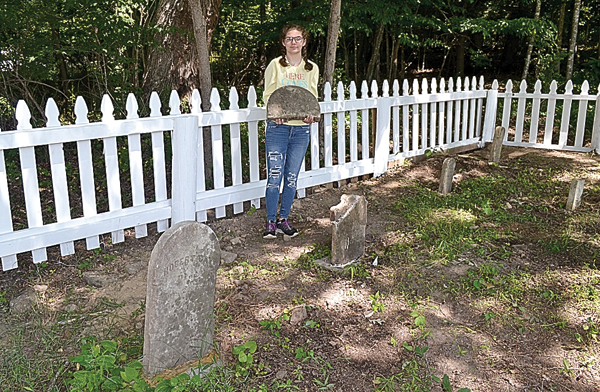 Suzanne Stewart
Staff Writer
 
As a Girl Scout of America, a young girl can rise through the ranks – starting at the age of five as a Daisy, all the way to her teen years as a Senior. 
Through her time in the scouts, she earns badges and ranks. The second highest award a Girl Scout can receive is the Silver Award, which recognizes a scout who has completed a community service project.
In December 2020, 15-year-old Elizabeth Friel, of Marlinton, received her Silver Award for her project of restoring the Robert Gay Family Cemetery adjacent to the Campbelltown Church.
Friel has a rather unique history with Girl Scouts – her grandmother, Linda Friel, is her leader, and has been the leader of Troop #35032 for decades.
"Grandma was the leader since I was little, but I didn't want to join because I was really shy," she said. "I helped out with the little Daisys for a while, when I was nine. Then when I was ten, I joined."
Being a Girl Scout and a 4-H member helped Friel come out of her shell and by the time she was starting seventh grade at Marlinton Middle School, she was also starting the process to earn her Silver Award.
"I didn't have very many ideas at all," she admitted. "I thought maybe I could do something to help the elderly. My sister helped at the Pocahontas County Animal Shelter. Grandma said, 'there's an old graveyard that needs fixing up.' I was like, 'okay, I'll do it.'"
Before starting the cleanup, Friel said she had to get permission from the Pocahontas County Commission and she asked for donations from local groups including the Marlinton Woman's Club, Marlinton Lions Club and Marlinton Rotary.
"They were generous enough to give us some money and then I went to the County Commission and asked if I could do this," she said.
After Friel received the green light to commence with her project, it was time to survey the property.
The cemetery was overgrown with tall grass and small saplings, and the gravestones were not visible at all.
"You could not tell it was here," Friel said. "The gravestones were all down in the grass. We couldn't tell where it was exactly."
With the help of Pocahontas County Historical Society member Joe Smith, who provided coordinates for the cemetery, Friel and her volunteers marked off the boundary and revitalized the small family cemetery. 
"We took out seven truckloads of brush and trees," Linda said.
Once the overgrowth was gone, the crew found several broken gravestones, as well as several graves simply marked by stones with no engraving. 
The final stage of the project was to put a new fence around the cemetery and paint it – a task that took longer than Friel expected.
"We spent six-and-a-half hours painting it yesterday," she said. "We're pretty close to finishing."
Although she has already received her award, Friel said she wants to put another coat of paint on the fence and add a sturdy set of steps leading to the cemetery.
Through her hard work and coordination of friends and family, Friel helped uncover a cemetery that was taken over by nature and learned a few things about her home in the process.
 "I learned a little bit about the history of Pocahontas County," she said.
 "I also learned it's pretty hard to paint a fence with just four people," she added, laughing.
Her journey as a Girl Scout may not have started like other girls, but Friel is proud of the work she has done and is nearly ready to think up a project to do to earn her Gold Award.
"I try not to think about it," she laughed. "I have to do a totally new one."
Friel is the daughter of Andy and Andi Friel, of Marlinton.