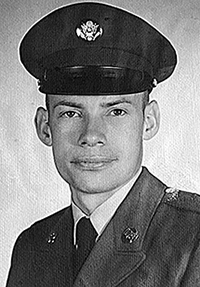 Franklin Roosevelt "Buck" Carpenter, 85, of Buckeye, passed away Saturday, May 20, 2023, at Peyton Hospice House in Fairlea surrounded by loving family.
Born February 17, 1938, on Spruce Flats, he was a son of the late Benjamin "Frank" and Georgia Weiford Carpenter.
In addition to his parents he was preceded in death by a daughter, Penny Gayl Gum; sisters, Jewell Biggs and Nellie Carpenter; brothers, William Carpenter and Johnnie Carpenter; nieces, Pam Carpenter and Charlotte Turner; and nephew, Tim Wiseman.
Buck always said he went clear through school – in the front door and out the back.
Buck was an US Army Veteran, and worked as a dump truck driver for Burns Motor Freight. He was an avid hunter and fisherman. He had a love for Bluegrass music, and was a talented musician of many instruments.
Buck is survived by lifelong companion, Tink Gum; sons, Frank Triplett, and wife, Deloris, of Marlinton, and Jerry Gum, and significant other, Angie Borden, of Woodstock, Virginia; brother, Stewart "Stewie" Carpenter, of Marlinton; grand- children, Adam Triplett, Josh Gum and Tristan Gum; several nieces and nephews whom he cherished; and many friends.
Funeral service will be held Thursday, May 25, 2023, at 4 p.m. at Lantz Funeral Home with Pastor Sam Felton officiating. Burial will follow in the Carpenter Cemetery on Spruce Flats with military graveside honors by the Pocahontas Coun-ty Veterans Honor Corps.
The family will receive friends at the funeral home Thursday from 2 p.m. until time of service.
In lieu of flowers, donations may be made to Peyton Hospice House in Fairlea or the Pocahontas County Veterans Honor Corps.
Online condolences may be shared at Lantzfuneralhome.com