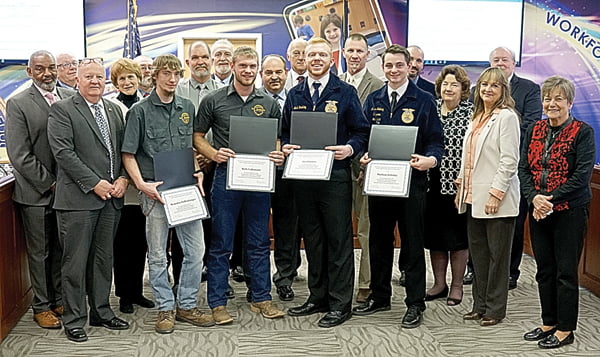 Suzanne Stewart
Staff Writer
While West Virginia Board of Education meetings are usually all business and no play, the board did find time at its January 9 meeting to celebrate the achievements of the Pocahontas County High School forestry team.
Last Wednesday, the team – Brandon Puffenbarger, Kyle Cohenour, Jacob Jones and Mathias Solliday – forestry teacher Scott Garber, PCHS principal Joe Riley, Pocahontas County Board of Education president Joe Walker and Pocahontas County Superintendent of Schools Terrence Beam attended the meeting where the team was recognized for winning the title of National Champions at the annual FFA competition this past fall.
"It's rare they have students to come and be recognized," Beam said of the state board.
County superintendents usually share good news with the state board via email or phone call, but this time, Beam took it upon himself to make sure the board met the team in person.
"We weren't invited to go – I invited us," he said. "This is the eighth national championship that Pocahontas County has won. There were seventy-thousand kids in Indianapolis for this competition. Not all of them were in forestry, but my point is, this is a big deal."
The January meeting was the perfect opportunity for the board to meet with the team due to a short agenda. Board members asked the team several questions and presented them with certificates for their achievement.
"All four guys made it," Beam said of the team. "Two of them dressed up in their jackets and two had their work uniforms on that they wear when they are out in the field. So they showed both sides of the program. One of the members asked a lot of questions about how their business worked and operated, and the fact that they sold their own timber. You could tell they weren't just trying to rush them through. They were really genuinely interested in what they were doing. It was nice."