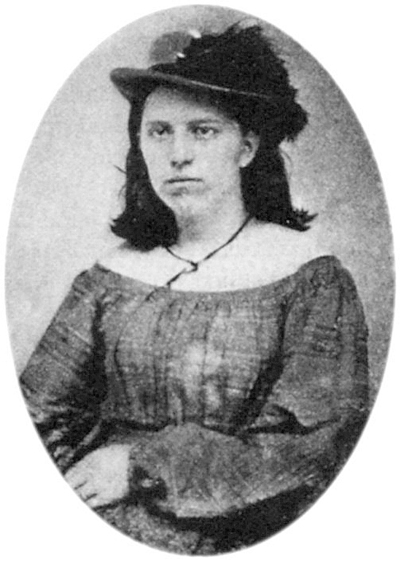 Women Spies
Nancy Hart Douglas
"She was as deadly as a copperhead." Perry Conley of the Confederate Moccasin Rangers
I readily admit to having a short-lived retrospective infatuation with a Civil War spy; her name was Nancy Hart Douglas. Her shocking boldness and lethality caught the imagination of our country during the American Civil War.
Twenty years ago, I discovered that Nancy Hart Douglas, hereafter referred to as just Nancy Hart, was captured in a cabin near my home in Nicholas County.
Hers is the only marked gravestone in a slave cemetery high on Manning Knob near Richwood, West Virginia. At least it was on January 1, 2003, when I first visited her grave with a friend and found a foot of snow and ice on the ground.
The unmarked slave graves are mere depressions in the ground surrounding the fenced-in Nancy Hart gravestone. In 1987, the fourth-grade class at Beaver Elementary School in Craigsville, West Virginia, erected the headstone, marking Nancy Hart's final resting place.
Author's Note: The date of death on Nancy's headstone is 1902. The year may be wrong because other sources claim she died in 1913, including two granddaughters interviewed in 1992 who remember attending Nancy's funeral. Other reputable witnesses in Richwood remember Nancy Hart being around when Halley's Comet was visible in 1911.
Although born in North Carolina, Nancy moved with her parents to Tazewell, Virginia, as an infant.
From there, the family moved to a farm in Roane County in present-day West Virginia when Nancy was seven. In this mountainous wilderness, Nancy honed her considerable skills at riding, shooting and tracking.
The Mata Hari of the mountains
Though illiterate, her contemporaries knew Nancy to be intelligent and articulate. Couple these traits with her firearm and equestrian skills, and you had the makings of the perfect scout and spy.
There was one other attribute recommending Nancy for the task of gathering information about the enemy – her remarkable natural beauty.
In researching Nancy Hart Douglas in 2003 at the Richwood Library, I found accounts from Union soldiers and officers describing Nancy.
There was liberal use of words like "voluptuous," "alabaster skin" and "raven-black hair and black eyes." Nancy apparently had no scruples about using her wiles and charms to obtain much-needed intel; those alluring qualities were occasionally lethal.
Fifteen-year-old Nancy had joined the ruthless Moccasin Rangers led by Perry Conley, a man described as a "6-foot-3 muscular menace."  She rode and fought with Conley, often leading charges.
Author's Note: Many Melungeons settled in Virginia, where Nancy was born. Nancy's facial features are consistent with many Melungeon women known for their beauty; high cheekbones, fair skin, dark eyes and hair.
Brother against brother, or as the case may be, sister against brother.
Virginia and present-day West Virginia was a region split in its sympathies toward the Union and Confederate causes. The adage that the American Civil War pitted "brother against brother, and father against son" was accurate.
Living in this area during the war was exceptionally dangerous, particularly when Confederate raiding groups were wreaking havoc with Union troops and native residents who supported the union.
Nancy was but one of 13 children born to Stephen and Mary Hart. Two of Nancy's brothers joined the Union Army early in the war. While visiting her sister's home when she had a new baby, her brother-in-law, a Confederate supporter, was forcibly taken from his family for questioning in Spencer, West Virginia.
His bullet-riddled body was found along the road several days later. This unnecessary violence only strengthened Nancy's hatred for the Union Army. Further encouraged to do whatever she could to help the Southern cause, it was now "sister against brothers" in the Hart family.
She continued riding with the Moccasin Rangers until Conley was killed, and the group disbanded. Shortly afterward, Nancy joined the Confederate Army under Stonewall Jackson as a guide and spy.
Burning Summersville
Our Civil War Nancy Hart had some things in common with the Revolutionary War spy, Nancy Morgan Hart, discussed in last week's column. Both were ideally suited to a rugged life in the wilderness and could handle a gun and horse as well as any man.
Additionally, even their methods of spying were similar. Both used ruses of acting like simple country girls trying to peddle eggs and garden vegetables to enemy troops. Likewise, both women were highly effective in gathering information.
Nancy Hart Douglas may have relied more on her natural endowments and charms to obtain intelligence from the enemy than Nancy Morgan Hart. She had a far more no-nonsense, take no prisoners approach to dealing with the enemy than our Mountaineer Nancy.
When Nancy's husband, Joshua, a former member of the Moccasin Rangers and described as a striking figure of a man, joined up with Company A of the 19th Virginia Calvary, Nancy moved to the Richwood, West Virginia, area.
(This Nancy went for the tall, muscular guys – evolution at work.)
In Nicholas County, Nancy Hart would affect an escape from enemy capture that would put a price on her head for life and place her in the history books forever.
There are some inconsistencies in various sources in the telling of this story. With that in mind, I shall relate this vital chapter of Nancy's life based upon testimony from those present and information from amateur historians in the Richwood area who have spent their lives studying hers.
To set the stage for Nancy's capture and escape, we must return to July 1862 in Summersville, West Virginia.
The 9th West Virginia Infantry, commanded by Lt. Col. William C. Starr, occupied the town of Summersville, the county seat of Nicholas County. Food for his troops continued to be a problem as the various Confederate troops and raiders disrupted the supply chain from the north.
When Federal troops entered Summersville, the locals gathered all the vegetables from their gardens, and some even burned down their houses.
In response, Commander Starr and four others, including two orderlies, a Capt. Samuel Davis and a telegrapher, Marion Kerner, saddled up and searched for hardy root vegetables and other produce.
This scouting party had no intention of stealing the food or taking it by force; no sir, these were gentlemen soldiers. Instead, they offered something in return that was essential and in short supply – salt.
The party approached a small cabin in the Mt. Nebo area and saw two young women grinding corn just outside the door. Hearing the approach of the soldiers, the two ran into the cabin. An elderly woman inside the place looked out through a small porthole and shouted, "The Yankees are upon us."
Commander Starr politely knocked several times on the door, but there was no response. He went to a window and explained to the old woman inside that they intended to trade salt for food.
Upon hearing this, the door opened, and the soldiers left a generous amount of salt for the much-needed garden stock. Accounts confirm that the soldiers who entered the cabin noticed the comely young woman in a corner but didn't realize at the moment she was the Nancy Hart that was on their most wanted list.
After the group mounted up in preparation for leaving, Starr pulled out a description of Nancy Hart and passed it around – all of the men shook their heads in the affirmative; the young woman was indeed Nancy Hart.
According to Kerner, Starr reentered the cabin and gently placed a hand on Nancy's shoulder, saying, "Well, Nancy, at last we got you."
The women put up little resistance, and because Nancy's friend was abetting an enemy, she and Nancy were brought to the Union Headquarters in Summersville.
 "Dainties" for the girls and a bullet for a boy.
The women were first held in a dilapidated house with soldiers posted outside. Marion Kerner, the telegrapher, petitioned Starr to place the two in accommodations more appropriate for two teenage females. Commander Starr acquiesced, and the two were moved to the attic above his headquarters.
The door was left open to the women's quarters during the day and closed at night. The guards were instructed never to enter their room. They were permitted to talk with the young women but were ordered to keep their distance under the threat of facing a firing squad.
Considering the variations of what happened next, we'll go with the story as related by Nancy and the Federal soldiers.
The telegrapher, Marion Kerner, attempted to make things more comfortable for the women. He gave them illustrated publications; both women were illiterate but enjoyed the illustrations. Mr. Kerner also purchased, for Nancy and her friend, sewing materials and "dainties."*
Author's Note: In the Victorian Era, dainties were tea party items such as cakes and delicate pastries.
A few nights into their incarceration, Nancy opened the door to their sleeping quarters around three a.m. Telling her teenage guard she couldn't sleep, she began a conversation about the soldier's rifle, telling him she used the same gun to hunt squirrels and other game.
The teenage and naive soldier was smitten by her beauty and charm. He handed it over when asked if she could just look at his gun.
(Proof positive that men are not ruled by their brains.)
Nancy first pointed the gun at a wall, cocked the hammer, and quickly swung the rifle around so it lined up with the soldier's chest and pulled the trigger, killing him instantly.
Nancy leaped over the body, ran out of the house, jumped up on Starr's horse, and rode it bareback out of town and back to the safety of Confederate troops, leaving behind her friend.
Some four days later, Nancy Hart returned to Summersville, leading 200 Confederate Troops commanded by Major Augustus Bailey. The unexpected early morning raid was a success for the Confederates.
Before leaving Summersville, the rebels had burned three buildings confiscated by the Federals and captured Starr, several officers, and the telegrapher, Marion Kerner. Because Kerner had been kind to Nancy Hart, she convinced the Confederates to release him.
Author's note: Following Kerner's release, he took his personal property, including a telegraph terminal. He was soon recaptured and sent with the others to Libby Prison in Richmond after he was discovered sending a telegraph to a Union camp in Gauley Bridge. **
After the Summersville raid, Nancy occasionally led raids and spied on Union troops, mostly from afar. She knew that if she was captured again, she would be hanged.
After the war, Nancy and Joshua moved to a farm near Cordova in Greenbrier County, West Virginia, and lived there until she died in 1913.
Amanda Romain Shaver's dissertation at Marshall University, Our Women are Made of the Right Stuff, states the following about West Virginia women in the Civil War:
"West Virginia women relied upon assumptions about their feminine nature and acted outside of conventional gender norms to both support and resist invading forces.
Regardless of their partisan loyalties, Unionist and Confederate West Virginia women shared similar experiences of hardship throughout the Civil War and learned to adapt their behavior and actions as their situations required in order to survive."
Well, readers, that just about sums up Nancy Hart Douglas.
Ken Springer
Ken1949bongo@gmail.com
* The Teenage Terrorist of Roane County. H.Donald Winkler, November 2017
** Libby Prison, a Confederate prison in Richmond, was for captured Union officers. It was overcrowded, and many prisoners died of malnutrition and the many common diseases of war.
Citations are available upon request.