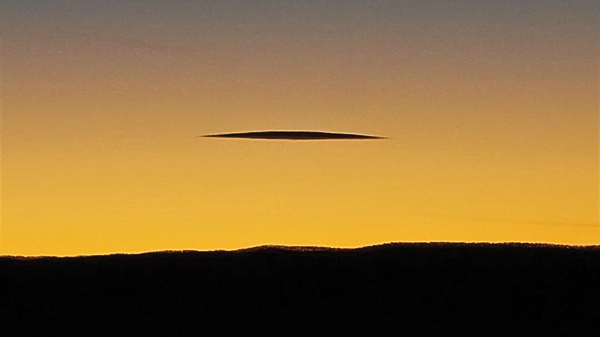 The Truth is (still)
out there
Part Two
"It was like going from 50,000 feet to 100 feet in, like, seconds –which is not possible." Fighter Pilot describing a UAP (formerly UFO) off the California coast in November 2004.
The year, 1973, is remembered for the proliferation of Unidentified Aerial Phenomenon sightings worldwide, something that ufologists call a "flap." Sightings of UAPs were reported throughout the southern portion of the eastern U.S. beginning in late spring that year.
By the fall of 1973, Ohio and surrounding states were experiencing a flurry of UAP sightings. Reporting these strange objects, capable of hovering silently and traveling at extremely high speeds, included the general public, law enforcement agencies and military pilots.
I present, for your consideration, several stories about UAP encounters by people known to me for their honesty and integrity. And, yes, these experiencers are fully aware that some might question their sanity for even reporting such a thing.
And, if you know anything about Operation Blue Book or any of its other iterations until 2021, secrecy and ridicule were our government's Plan-A to deal with sightings. "Make them feel like idiots for reporting UAPs, and if they are pilots, pull their license or ground them."
Others, who have yet to see a UAP themselves, often suggest that the observers saw the planet Venus or perhaps had been drinking or using drugs, or all three. The government, in large part, fostered this attitude in an effort to reduce and dampen the public's interest in these mysterious objects.
Yet, members of the public, pilots and law enforcement officers know that what they saw was real, an unknown material object. Some never spoke out about their experiences until recently, while others did share what they saw, only to regret doing so afterward because of the ridicule suffered.
(Did the Pentagon ever consider that the planet Venus may take outright umbrage at being mistaken for a flying saucer? That's like mistaking a Runway Model for a fruit bat.)
Close encounters of the Droop Mountain kind: The Dave Scott experience
Dave Scott has lived his entire life – up to this point – on Droop Mountain and only one strange incident has baffled him since its occurrence 50 years ago. Dave's experience with a friend in the fall of 1973 remains a mystery to him, one that he speaks of with awe and wonder.
Thirteen-year-old Dave was visiting a friend and watching TV when, around 2 a.m., bright penetrating lights were seen outside the house. The boys went out on the porch to see what was going on, not expecting to see a saucer-shaped object with different colored lights circling the house.
After going around the house three times, the approximately 12-foot-long craft stopped and hovered silently at one corner. The object was at eye level with the boys and seemed solid.
The lights were embedded within the craft and were not visible as protrusions on the craft's outer surface; nor were there any visible flight surfaces such as wings, rudders, or stabilizers. David said that the featureless object appeared to be made of silvery metal.
I asked Dave what happened next, and he responded, "It left at a speed that our eyes could not follow; it was there one moment and gone the next."
There are tens of thousands of such reports from people from all walks of life, stripes and colors. Did some of these people misidentify Venus or a lenticular cloud for a UAP?
Probably, but not all of them.
What I didn't see, but what I heard
Those who have never been to Ohio, or wisely slept through the drive, may think that the state is just one enormous flat cornfield punctuated by those occasional phallic symbols of agriculture, silos.
That's only partially true; rugged hills and deep gorges in the state's bottom half prevent it from being mistaken for Illinois. On such a hill, I sat in a State Highway Patrol cruiser on a cool, clear evening in October 1973.
And why, you ask, were we not out saving lives and investigating rural mailbox vandalism instead of just sitting in a cruiser on a remote hill in southwestern Ohio?
It was because the patrolman and I were listening to jaw-dropping radio traffic between several other cruisers belonging to two different law enforcement agencies. Furthermore, they were pursuing something that, at the time, I didn't even believe in, UFOs.
I was, at this time, a park ranger assigned to the new and developing Paint Creek State Park that straddles Highland and Ross counties. On the evening in question, I was on a scheduled ride-along with a state trooper patrolling U.S. 50 that stretches east-west across the southern portion of Ohio.
We need to back up to about 30 minutes earlier. The trooper and I were passing by the Rocky Fork State Park camp office around 11 p.m. and decided to grab a cup of coffee. The cruiser was parked by an open window so we could hear any radio traffic from inside the camp office while we enjoyed our coffee.
The first unusual traffic we heard was on the Highland County Sheriff's band, a discussion between a deputy in a cruiser and the Sheriff's Office dispatcher. The dep-uty stated that he was following several oblong objects flying silently and slowly over a county road near the border with Ross County to the east.
A period of silence ended when a state trooper chimed in, adding that there were more than several of them and that one was immense; he compared its length to that of a football field.
(If these professional law enforcement officers were seeing Venus, there must be a hell of a lot of Venuses up there in the sky simultaneously.)
The radio crackled again, and this time it was a second trooper operating near the Georgetown Highway Patrol Post in Brown County, about 30 miles to the southwest. He confirms seeing the same or similar objects and requests the dispatcher to step outside momentarily to see if he can spot them.
After another short period of silence, the dispatcher gets back with the trooper confirming his observations of the objects. I remember that the dispatcher's voice was far more strained, perhaps excited, after he had gone outside than before. 
Then, a Highway Patrol sergeant gets on the radio and commands the troopers and dispatcher to cease using the radio and instead use "public service," meaning the telephone. For whatever reason, the commanding officer didn't want the public or any other law enforcement agency to hear what the troopers were reporting.
I think it is safe to presume that the sergeant's orders to the troopers reflected the stigma associated with "little green men in flying saucers." The Ohio State Highway Patrol takes great pride in its integrity and professionalism.
We then took the cruiser to a hilltop adjacent to the Highland County Airport. Visibility from this promontory was excellent. But still, we were 30 miles from the action and couldn't spot anything in the hour or so that we sat there.
We were hugely disappointed at not seeing anything resembling a UAP, but we were still enthralled by what we had already heard from the other officers working that evening.
The next day the town of Hillsboro, Ohio, and I suspect others as well, were all abuzz about the sightings of the previous night. It turns out that the Highland County deputy who first reported the UAPs got in a little hot water for giving chase into Ross County, where he had no authority.
There were numerous calls from the public, reporting objects that matched those reported by the officers and the location in question. Later, people began talking about the activity of the nearby Ohio Air National Guard out of Wright-Patterson AFB.
Witnesses reported attack helicopters chasing the objects around a four-county area. This response is documented in a film called 1973, UFOs, Abductions and Extraordinary Sightings, as well as newspaper accounts.
The strange story of Steve Fisher
The most shocking result of that UFO flap was yet to be visited upon me.
Later in the same week of October, I had just pulled into the driveway at my park residence after a day of pulling buoys from the lake.
Sitting under a tree in the front yard was a good friend. A young man I had met a few years before when we both worked at the Mosquito Creek Wildlife Area in northeastern Ohio.
Ashen-faced Steve Fisher, a 23-year-old wildlife biologist, slowly rose from his seated position under an old apple tree. His eyes said something was wrong; something had shaken him to the core.
I wondered, "Did one of his parents die, or maybe one of his siblings?"
"Are you OK?" I stupidly asked, obviously, he wasn't.
Steve's hands were shaking as he told me that something really strange had happened to him while he was discing a field at the Fallsville Wildlife Area where he worked.
We went inside the house and I made a pot of coffee, assuming that this would be a conversation requiring alertness on my part. Steve was a man whose word you could take to the bank; it had value.
In next week's conclusion to the UAP story, we'll hear about Steve's frightening experience while working at a wildlife area, as well as local sightings by trustworthy sources right here in Pocahontas County.
We'll also explore a few theories about what a definitive confirmation of material UAPs may mean for humankind.
And, we'll take issue with those that deny the possibility of E.T. visitation to planet Earth because of the vast distance involved. There is one glaring flaw in the conventional logic about interstellar space travel.
Ohio's Governor Gilligan and his wife reported seeing an unidentified craft during the 1973 UAP flap; one they said exhibited unusual flight characteristics.
This, and the other activities described above were reported by none other than Walter Cronkite. This was at a time when the evening news was more about presenting facts than bastions of bias-confirming opinions.
I'll borrow from Cronkite's familiar CBS sign-off by saying, "And that's the way it was; October 19, 1973."
Ken Springer
Ken1949bongo@gmail.com