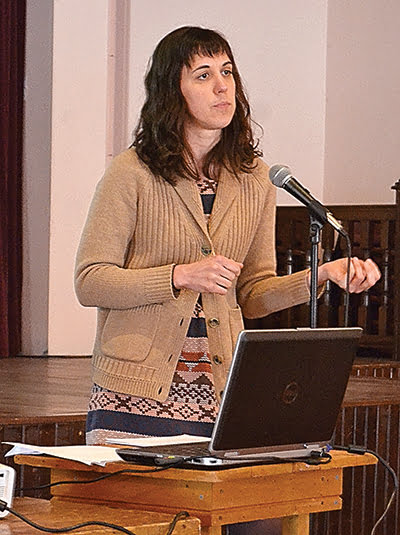 Suzanne Stewart
Staff Writer
A common misconception about folklore is the belief that it is the study of mythical creatures or tall tales.
West Virginia folklorist Erin Hilliard visited the Pocahontas County Opera House last Thursday and explained what folklore really is and how the West Virginia Folklife Program is dedicated to preserving and recording the rich folklore of the Mountain State.
Hilliard is the first official folklorist in West Virginia and finds herself explaining her job to people – a lot.
"Folklore is a word that has this popular usage that's often tall tales, things that are assumed not to be true," she said. "There was an article that came out recently that said instead of calling things fake news, we should call it folk news because they are equating folk with something that is not true, but folklore actually denotes an entire cultural phenomenon that we all have."
There are many ways to describe folklore, but Hilliard said the easiest way is "folklore is the art of every day life." It's the apple pie recipe that's been in your family for four generations. It's the crochet pattern your grandmother created and never wrote down. It's the lullaby your mother sang to you that her mother sang to her. It's the culture your ancestors brought with them to America and West Virginia.
"This is maybe my favorite definition of folklore – the way a group expresses itself creatively," she said. "I like this because it shows that folklore comes out of a community. It comes out of a group, and it's really based in that community's cultural holdings. I also say that folklore is behavior learned by living our lives and not necessarily the formal training that you have in school, although now we know there are lots of ways to learn traditional art forms in school and informal settings. It's a lot of the things that you learn just by being in the community, being part of a culture, being in a place, learning from your grandparents, your elders, the people around you."
As a division of West Virginia's Humanities Council, the Folklife Program focuses on recording the customs, beliefs, stories, music, dance, jokes, dress, foodways and arts and crafts of the people of West Virginia.
Hilliard travels to each county in the state and visits with communities and individuals who fit in the categories aforementioned.
"The way we go about this work is with the ideal of collaborative ethnography, so we want this to be a community-based initiative," she said. "Collaborative ethnography is an approach that tries to get past that hierarchy of where the folklorist is the expert and they're studying their subject. This really takes the approach – we're both experts in our own experience and it's our conversation that is going to be different every time, but it's a conversation between two people."
The Folklife Program is also providing oral history workshops to train people to be their own folklorists and document their trade or stories.
Hilliard begins her documentation in each county with an open forum similar to the one she held at the Opera House and from there, she reaches out into the communities and learns who she should talk to about their folklore.
She said she has only just begun interviews in Pocahontas County and earlier Thursday, she spoke to Trevor Hammons, a Pocahontas County High School student who is an award-winning banjo player.
Along with documenting and preserving the folklore of West Virginia, the Folklife Program started a new initiative this year called the Folklife Apprenticeship Program.
"It's available to traditional musicians, dancers, crafts, foodways practitioners, storytellers and any cultural community in West Virginia," she said. "Really, what this does is it serves as recognition of the master artist – they're being recognized for their expertise in the genre – and then also ensures that these forms are being shared with the next generation. The apprentice has to show that they are committed to continuing the art form, and they're required to do at least one public performance in their home community to share that with the folks around them. Then we'll have a showcase in Charleston with all the apprentice pairs."
The apprenticeship pairs will also be at the New Story Conference in Lewisburg, May 31 and June 1.
Hilliard said the Folklife Program has a toll free number, 1-844-618-3747, where callers can provide information on individuals or communities that should be part of the collection. She said that since the number has been active, she has received many interesting messages, including lullabies and songs played on instruments.
To make suggestions to Hilliard, contact her through email at hilliard@wvhumanities.org or call 304-346-8500. To see examples from the collection, visit http://wvhumanities.org/programs/west-virginia-folklife-program/
Suzanne Stewart may be contacted at sastewart@pocahontastimes.com