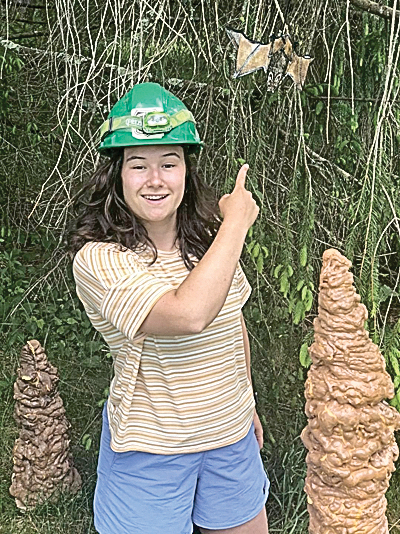 Listen to live music! Meet local artists! Enter an inflatable cave! Create unique art! Start a jam session!
Do it all on the First Friday of the month, June through October, from 5 to 7 p.m. in downtown Marlinton where artists, musicians, naturalists and others come together to share their love and knowledge of our mountain culture and natural heritage.
Community members and visitors are invited to come downtown to enjoy live artist demonstrations, listen to live music, create unique keepsakes and gifts, browse the work of locally artists, and spend time with community members. This Friday, June 4, is the first event.
Live music will be featured each month on the Discovery Junction stage and engaging art demonstrations and nature programs will be held in this wonderful greenspace. Local downtown businesses are vital participants in First Friday events, and several will keep their doors open late and provide dinner specials, sales, unique items, live music or other activities to draw people downtown.
Juanita Fireball and the Continental Drifters will be hitting the Discovery Junction Stage beginning at 5 p.m.. This band debuted at the Pocahontas Opera House in 2008, although they had been making music in one form or another for years. They play the Appalachian string band tunes that they learned from old-timers in West Virginia, Virginia and North Carolina, and sing songs about animals, outlaws, fruit and love, with a few gospel numbers for balance. The high energy of their hard-driving music will have you dancing. The band consists of Mike Burns ("Juanita Fireball") and Jay Lockman ("Pluto") on twin fiddles, Mary Sue Burns ("Lulu") on clawhammer banjo, Wayne Walton ("Handyman") on the doghouse bass, and John Sparks ("Rev. Sleepy John") on the guitar.
There are plenty of other great things to do too. Emily Culp, AmeriCorps member with the Monongahela National Forest, will lead tours of a 35-foot inflatable cave. This tour is perfect for people of all ages. You can learn why caves are important and about all the critters that make their home inside our Pocahontas County caves – all while enjoying your own private cave tour.
Artist Kalee Paxton will be demonstrating a fun way to make your own art with squirt painting, a fun, vibrant, and exciting art form for creative kids, teens and adults. While this activity can get messy, don't worry. Kalee will be using washable paint for this engaging and colorful art experience.
Luci Mosesso with WVU Extension will be in the "Kid's Zone," an area with lots of hands-on games for the young of heart including a new frog launch game that was created by the wonderful ladies of Barefoot Woods. Staff from McClintic Library will have a science-based activity and free books for kids. And, WVU Extension will help kids create their own UV bracelet to help them know when they are vulnerable to the sun's rays.
Local food vendors and businesses will be set up at Discovery Junction including the Marlinton Woman's Club (don't miss their world-famous kettle corn!), Little Rainbow Treat Company (featuring bubble wands and sidewalk chalk), Mitchell Chevrolet (chance to soak a salesman), and the Pocahontas County Convention and Visitor's Bureau (learn about mountain biking opportunities across the county).
Lastly, we are excited to announce that the following businesses will be keeping their doors open late and featuring an array of offers: 4th Avenue Gallery, Appalachian Sport, Dirtbean Café & Bike Shop, Greenbriar Bikes, Alison Pottery, Greenbrier Grille, Locust Hill Inn, Cabin, and Pub, Mountain Tavern, and The Cackling Hen. You are going to want to stop in and visit each one!
Future events will feature a petting zoo, an arts and crafts show, a birding hike, live snakes, and so much more.
Meander downtown Marlinton and enjoy local cuisine, shopping, art displays and live music. Each event is different, but they are all fabulous!
First Fridays are coming to Marlinton and they are going to ROCK! We invite you to stroll, sip and shop the night away.
Events will be happening June 4, July 2, August 6, September 3 and October 1, 2021, from 5 to 7 p.m. Follow the Discovery Junction Facebook page for more details.