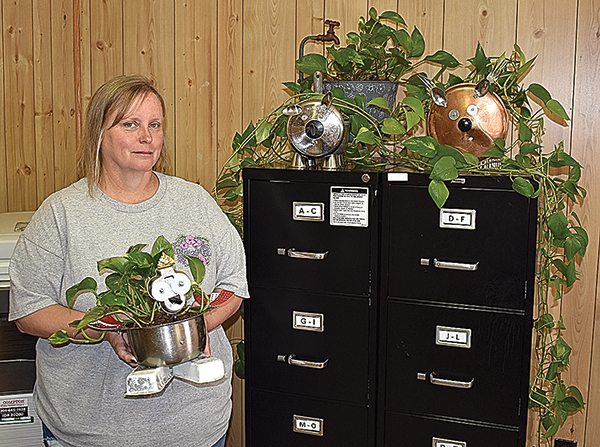 Suzanne Stewart
Staff Writer
While most people would see a pile of pots and pans at a thrift store as just a pile of pots and pans, Jodi Gragg-Zickefoose sees more – the face of a pig or the body of a cat. Her creativity helps her see the possibilities for a new life for old kitchenware.
It began 15 years ago, she explained, when her dad, the late James Gragg, brought her a box of stuff.
"He was kind of a hoarder of anything and everything metal," she said, laughing. "He brought me a box one time, and it had a bunch of little Jell-O molds and stuff like that. He said, 'just do something with it.'"
Gragg-Zickefoose made a bear for herself and, after that, for anyone who wanted one of their own. From that point, she founded Krazy Kreations by Jodi and has been making custom planters, dog bowls and more with metal kitchenware.
"I have some people that I make, but mostly animals are my big sellers, so I make more animals," she said. "It just pops into my head. It's not something I really think about. I just kind of look at a pan or a lid and be like, 'yeah, that would make a good pig.'"
The creatures have a lot of character and add whimsy to a sunroom or office desk as they act as home to a beautiful plant or flower.
"No two are alike," Gragg-Zickefoose said. "They're all individual.
"Most of the plants I use are ones that are easy to grow because a lot of people tell me they don't have a green thumb," she added. "I always tell them if it gets too big, they can cut down the plants or transplant them."
Along with finding items to use for her creations at thrift stores and yard sales, Gragg-Zickefoose said some of her customers send her items they want turned into a planter or other useful household item. 
"For a coffee shop, I took an old coffee pot and made a cat out of it for their tip jar," she said. "I've had people want dog treat bowls. I've done people's grandparents' pots and pans. They'll send that to me and ask me to make something."
Gragg-Zickefoose admits that when she is working on a piece that has sentimental value, she tends to worry more about making sure the piece is perfect.
"Those are a little scarier because I'm always worried I'm going to mess it up," she said.
When it's time to stock up on materials, Gragg-Zickefoose is sometimes joined by her 16-year-old son, Bailey. In fact, two years ago when the two went on a family vacation, the route they took was a scavenger hunt for items.
"Our vacation a couple of years ago was to Amish country,' she said. "We started out here, and pretty much thrift stored our way to Amish country and then came a different way back and did the same thing."
Gragg-Zickefoose and her Krazy Kreations can be found at craft shows and festivals in Pocahontas County and online for those interested in special orders.
Several stores in West Virginia have reached out to Gragg-Zickefoose to start selling her wares, but she said she hasn't had time to get the inventory together for them yet.
Krazy Kreations by Jodi started as a hobby to earn a little extra money and while most of it has gone into Bailey's college fund or extra things needed through the years, it has now become the main source of funding for Bailey's golf career at Pocahontas County High School.
"Pretty much every time we do a craft show, he's like, 'Mom, I need golf shoes,'" Gragg-Zickefoose said, laughing.
When she isn't working on her creations, Gragg-Zickefoose is working hard as a case manager for North Central Community Action for Pocahontas and Greenbrier counties.
She can be contacted on Facebook at Krazy Kreations by Jodi where she posts photos of her creations and takes orders for the unique items she makes.