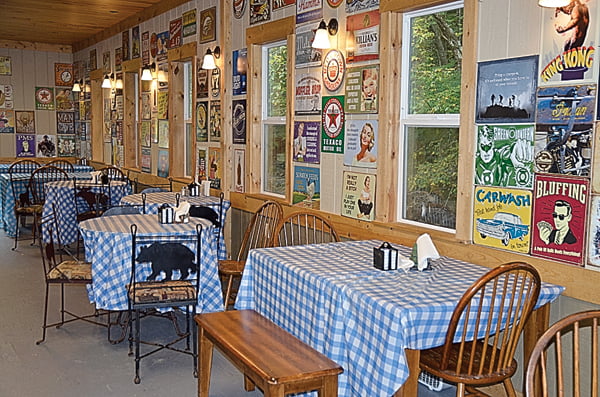 Laura Dean Bennett
Staff Writer
About 20 years ago, Beryl Minghini came to Pocahontas Coun-ty and established two Route 66 locations and the Why Not Shop.
The Route 66 Outpost in Cass, as well as the Slaty Fork location, were surely named for the road they sit beside, which is Route 66.
The shop has a convenient location, maybe a hundred yards from the Greenbrier River bridge.
Stepping inside, the first thing you notice is the charming red and white checked tablecloths in the dining area.
There's a whole line of poly-resin decorative accent pieces featuring many mountain species – from bucks to bears – there are picture frames, welcome signs and animal figurines.
Wooden carved walking sticks, Frostmore Farm maple syrup, wind chimes, Swan Creek Candle Company scented candles, Old Crow soaps and cookbooks.
Diane Foe came out from behind the kitchen counter to answer questions and show the menagerie and the shop.
She offered a sample of fudge, of which there were several varieties, and while my order of jalapeno poppers and a sausage biscuit was being prepared, Diane let me watch her make a pizza, which looked delicious.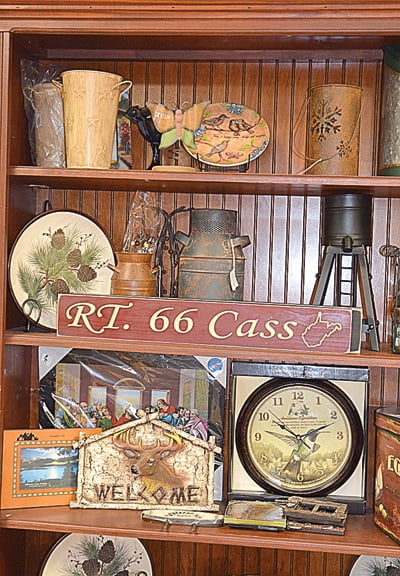 There is much to see and much to buy. T-shirts, sweatshirts, home décor, humorous signs and souvenirs to attract the shopper in all of us and even things for kids – jigsaw puzzles, stuffed animals, reproduction arrowheads and "Fill A Bag" marbles and pretty polished stones.
There's a cute train table just the right height for little ones to play with.
There's a modest selection of grocery items – and a fridge case of basics – drinks, hotdogs, eggs, cheese and the like – for those who might be camping or want to avoid a trip to the grocery store in town.
Route 66's breakfast menu is fairly extensive and breakfast is served all day.
There are lots of appetizers – I really enjoyed the jalapeno poppers.
For lunch, it would be quite welcoming to enjoy soup or chili on a cold day. There are also salads and 24 sandwiches – everything from "The Dog House" to the Billy Bob – hot ham and swiss cheese on an Italian sub.
They also rent bikes for touring around the area, and inner tubes, canoes and kayaks for getting out on the Greenbrier River, which is located a short, walking distance from the store.
There are eight rooms to rent up on the second floor. You should call ahead to reserve one, they must fill up fast in the season.
Whether you need to rent recreation equipment or a room, call ahead to 304-456-4388 or visit the Route 66 website at route66snow shoe.com
From Cass, I travelled across Back Mountain to the other Route 66 location, which also includes the Why Not Shop – a fascinating shopping experience not to be missed when one is visiting Slaty Fork or Snowshoe.
The Route 66 Restaurant and Why Not Shop are situated in a charming, rustic building perched beside – Route 66, of course.
As you step from the wooden porch into the shop, the rustic theme continues, and you are made to feel welcome to the shop and to the restaurant.
The restaurant area of this Route 66 location is as clean and friendly as the one in Cass, but this dining room features blue and white checked tablecloths and several of the same metalwork animal chairs that I admired in the other location.
The restaurant counter also displays several flavors of fudge like its sister kitchen in Cass. But in addition to the 12 tables in the dining room, there are an additional five tables set up on the nearby back porch for outdoor dining overlooking Slaty Creek.
After perusing the menu, which is identical to the Cass location, I ordered the "Big Bull," an eight ounce hamburger with all the trimmings from our waiter, a friendly young man named Jonah Clatterbuck.
Jonah is from Harrisonburg, Virginia. and will be working up on the slopes this winter. He brought his "special sauce" along with our French fries for us to try.
The burger was amazing.
It came with one's choice of cheese and all the usual toppings. There was a healthy, or should I say unhealthy, portion of French fries and a tasty half-sour dill pickle, the perfect complement to the burger, was on the side.
They also offer a "Little Bull," which is a much more manageable five ounce burger for sensible people or maybe people who haven't been skiing or snowboarding all day.
While we waited for our Big Bulls to arrive, we enjoyed sitting out on the porch playing backgammon.
It's the perfect place to relax and feel like you have your very own secret outdoor spot.
After our supper, we browsed the Why Not Shop, which took some time, as it is filled to the rafters with fun shopping.
There's something for everyone in the Why Not Shop.
In the last days of summer, I noticed a wide selection of shoes and sandals, billed caps, children's clothes and jewelry.
If you're visiting in the winter, and you're into snowboarding, they can outfit you.
And if you forgot ski pants, ski gloves, caps, winter boots, winter jackets, or even warm, furry bedroom slippers, Route 66 has you covered.
There are books, stationery and greeting cards, elegant framed artwork, geodes, souvenir mugs, and a lot of the same kind of merchandise as is found in the Cass store.
There's an interesting display of mounted butterflies for sale upstairs on the second floor along with lots of beautiful, rustic furniture and décor.
Antler light fixtures set the stage for log beds, tables, chairs and couches.
If you need to furnish your condo and are looking for something with a rustic flair, this is the place – and they deliver.
If you have any questions or need to rent ski or snowboard equipment you may call ahead to 304-572-2200 or visit the website at route66snowshoe.com
The folks at both Route 66 locations will be happy to help you.