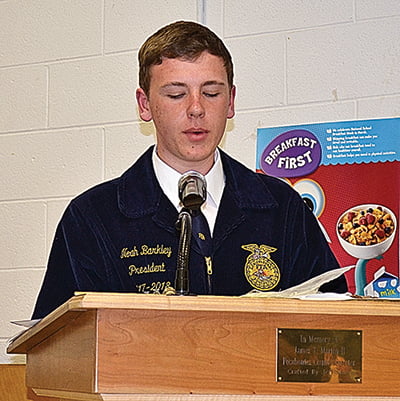 Suzanne Stewart
Staff Writer
Dressed in their navy blue corduroy jackets, members of Pocahontas County High School FFA held its annual banquet last Thursday to recognize achievements from the past year.
Before the awards were announced, West Virginia Commissioner of Agriculture Ken Leonhardt congratulated the students and shared a few words of wisdom.
"I want to challenge the youth here today," he said. "We all know that America feeds the world. We know we export a lot of agricultural products. Estimates vary, but let's take an average estimate that the world's population is going to increase by seventy percent by 2050. We know it's the technology and the science and agriculture that is allowing us to feed the world right now. So you folks out there, you young folks that are studying agriculture today, it's up to you. You're going to have to feed the world.
"You're going to have a greater challenge than my generation had, so I wish you all the best of luck with it," he continued. "As we get older, we're all going to depend on you to make sure you do it right."
PCHS principal Joe Riley, spoke briefly about the history of FFA at the school. As a former member of the PCHS club, as well as former ag teacher and FFA sponsor, Riley has seen the club grow and flourish As he took the podium, he took a moment to put on his navy blue corduroy jacket from 1985, when he served as the club's vice president.
"It still fits!" he exclaimed. "I want you to drop back in time to May of 1985 – President Kevin Irvine stepped up and tapped the gavel twice and said, 'bring the meeting to order.'"
As vice president, it was Riley's duty to take roll call of the officers and make sure they were at their proper posts.
"Guess who the first person was to stand up when I called the sentinel?" Riley asked. "The Sheriff, Jeff Barlow. I look around here and some of you I can remember – Doug Davis was part of the FFA, so was Jesse Groseclose and Clark Kinnison. Joe Walker was a part at one time. Matthew Barkley, and I'm sure I missed people, but I think there were a lot of you in FFA."
It was his time in FFA that led Riley down the path of becoming a vo ag teacher which in turn, helped him return to Pocahontas County.
"I had Mr. [Steve] Bland and Mr. [Bobby] Reel as teachers, and I didn't have a clue of what I wanted to do with my life, other than I really liked farming and I really liked agriculture," Riley said. "[They] both looked at about three of us and said, 'you need to be ag teachers.' And I went, 'yeah, that's what I want to be.' So I went to WVU, and I got my degree to be an ag teacher, and it was all because I was wearing this blue and gold jacket."
Riley closed by saying the reason the FFA chapter and the agriculture field in Pocahontas County is so strong is because of the people behind it – the families who encourage their children to continue down the same path.
"Whenever I look around this room and I see you all as students and I see you all as parents, I think that has a lot to do with it," he said. "I think the agricultural family is strong. I think it gives us the skills that we need in order to survive and be well in this world."
Students took turns presenting awards to fellow students and individuals who support the FFA chapter.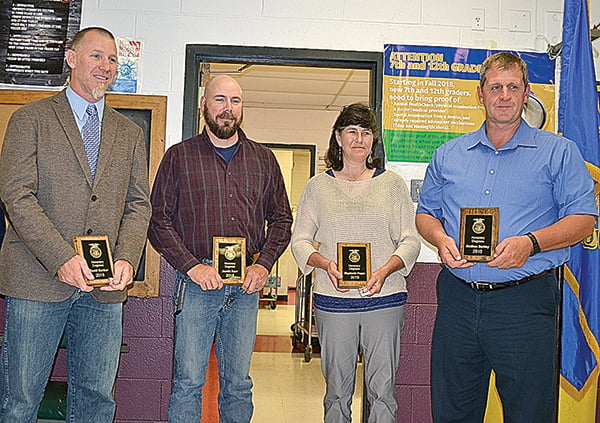 President Noah Barkley and secretary Kyle Cohenour presented the Honorary Degree to Scott Garber, Justin Kerr, Stephanie Poppe and Matthew Barkley.
Cohenour explained that the Honorary Degree is presented "to farmers, school superintendents, principals, members of boards of education, chapter advisors, teachers, staff members in agricultural education, business people and others who are helping to advance agricultural education and FFA."
Tara Doss and Chrissa Grimes presented the Leadership Award. Doss explained the award is given "to FFA members who exhibit outstanding examples at school, in their Supervised Agriculture Experiences [SAEs] programs in the classroom and in FFA activities."
Receiving the Leadership Award was Savannah Arbogast.
Aliza Carr and Harlie Nelson presented the Scholarship award which is given to a student from each grade level with the highest GPA. Winners were: freshman Joey Hajzer, GPA 3.8; sophomore Charity Warder, GPA 4.0; junior Matthias Solliday, GPA 4.0; and senior Audrey Feury, GPA 3.6.
The Greenhand Degree was presented by Arianya Cagle, Preston Beverage and Charity Warder.
"The Greenhand Degree is given to students who are regularly enrolled in agriculture classes, can learn and explain the FFA creed and motto, have an SAE and understand the FFA emblem and colors," Cagle said.
Recipients are: Kolton Alderman, Keaton Baldwin, Arianya Cagle, Trent Carpenter, Ayden Carrol, Bryson Cassell, Ty Cochran, Joey Hajzer, David Jordan, Jacob Kinnison, Isaac Mace, Courtney Thomas, Andrew Via, Charity Warder and Cheylin Woodruff.
Natalie Halterman and Ty Cochran presented the Chapter FFA Degrees.
"The Chapter degree is presented to FFA members that have received the Greenhand degree, have completed at least one year of agriculture science classes, have an operate their own SAE, are currently enrolled in agricultural science, have participated in the planning of our plethora of activities, understand parliamentary law and have earned at least one hundred, fifty dollars in their SAE," Halterman said.
Recipients are: Noah Barkley, Haley Bennett, Ryan Bennett, Preston Beverage, Aliza Carr, Kyle Cohenour, Garrett Coleman, Peyton Coleman, Ben Davis, Charity DeHaven, Tara Doss, Adrienna Feury, Darryl Foster, Jeremiah Grimes, Chrissa Grimes, Justin Jackson, Wyatt McComb, Charity Morrison, Nathan Morrison, Kaitlyn Moyers, Bub Murray, Harley Nelson, Drake Paulowski, Eli Pritt, Chris Riffe, Journey Robinson, Christian Smith and Irish Simmons.
Bryson Cassell and David Jordan recognized two students honored with the State FFA Degree.
As Cassell explained, the degree is presented to those who have "received their Greenhand and Chapter FFA degrees, have had at least two years of agricultural education classes, have participated in many local, state and national FFA activities, have effectively invested at least fifteen hundred dollars in their Supervised Agricultural Experience program and have performed at least thirty hours of community service."
Cassell added that less than two percent of FFA members receive the honor. This year, Noah Barkley and Ben Davis will be presented the award at the state FFA convention in Cedar Lakes in July.
Students who participate in competitions or Career Development Events were announced by Justin Jackson and Adrienna Feury.
Equine judging: Noah Barkley, Ben Davis, Charity Morrison, Kyle Cohenour and Adrienna Feury.
Soils judging: Savannah Arbogast, Ben Davis, Matthias Solliday, Jeremiah Grimes, Jeffrey Schebeck and Jacob Kinnison.
Creed speaking: Joey Hajzer and Charity Morrison.
Public speaking: Noah Barkley.
Livestock judging: Keaton Baldwin, Kolton Alderman, Ben Davis and Jacob Kinnison.
Tractor driving: Matthias Solliday, Noah Barkley and Robert Ryder.
Forestry: Kyle Cohenour, Noah Barkley, Cora Hedrick and Jacob Jones.
Envirothon: Cora Hedrick, Brady Jones, Noah Barkley and Matthias Solliday.
Andrew Via announced the top sellers for the citrus fundraiser. Each year, the FFA chapter sells oranges, grapefruits, apples, gift baskets and summer sausage. This year, the students grossed more than $20,000.
"This year, over twenty students each sold over twenty boxes of citrus," Via said. "Top sellers for our chapter who sold more than twenty boxes are: third place with twenty-nine and a half boxes, Tasia Davis; second place with forty-two and a half boxes sold is Noah Barkley; and first place, with forty-four boxes sold is Chrissa Grimes."
Ag teacher and FFA sponsor Erwin Berry announced the list of students who received Proficiency Awards.
"We're still growing with our Supervised Ag Experience programs," he said. "It's something that I don't really want to look at as a project. I want to look at it as something that they start – whether it's when they're very young – but I want them to continue to supplement their income or some kids, some adults can be full time farmers in our county. I'm hoping they can learn and develop these things as they get older.
Proficiency Awards are given in various disciplines the students take on as part of their agriculture education and as members of FFA.
Winners are: Ag Mechanics and Maintenance – Ben Davis. Beef Placement – Audrey Feury. Agriculture Process – Kaitlyn Moyers and Ben Davis. Diversified Livestock Production – Chrissa Grimes. Forestry – Bub Murray. Farm and Homestead Improvement – Savannah Arbogast and Charity DeHaven. Swine Production – Haley Bennett. Outdoor Recreation – Chara Grimes. Poultry Production – Charity Morrison. Turf and Landscape Management – Charity DeHaven. Horticulture – Journey Robinson. Meats Lab – Jacob Kinnison, Aliza Carr, Matthias Solliday, Chris Riffe and Ryan Bennett.
Berry also presented the Star Greenhand and Star Chapter Farmer awards.
"Star Greenhand is the kid who does the best in the SAE – their enterprise, does real well in the classroom, participates in FFA activities and does a great job," Berry said. "I had a lot of good first year kids this year. The Star Greenhand this year is Jacob Kinnison."
For the Star Chapter Farmer award, the recipient has excelled in many competitions and does a lot in the chapter.
"This kid has excelled the most," Berry said. "He was on our first place forestry team that was coached by Mr. Garber. He was on our first place equine team. He's been our chapter president. For a couple of different reasons, Noah Barkley is our Star Chapter Farmer."
Berry also had a few special recognitions, including Susan Davis, who helped train the first place winning equine judging team. The team will participate in the national FFA convention in October. He also led a round of applause for the ProStart students who prepared the meal for the evening – Janell Cassell, Jocelyn Sharp, Sydnee Butcher, Ida Bibb, Amber Pritt and teacher Teresa Mullen.
Suzanne Stewart may be contacted at sastewart@pocahontastimes.com