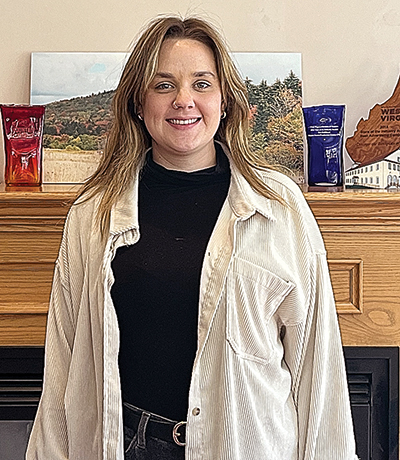 Suzanne Stewart
Staff Writer
Seven years ago, Chelsea Faulknier, nee Walker, took a job as the events grant coordinator at the Pocahontas County Conventions and Visitors Bureau. She went on to become a marketing specialist and on September 1 of this year she stepped into her new position as the executive director.
Faulknier knew that her predecessor, Cara Rose, had left big shoes to fill, but after seven years working by Rose's side, she felt she was ready to take the plunge and step into those shoes.
"When I was hired and started working with Cara, there was a big conversation between us about the future of tourism," Faulknier said. "I got to work alongside her and got to see all the different projects. I definitely learned a lot from her. When she decided to retire, I felt like [we] agreed on a lot of things.
"I'm a new person coming in with new ideas, but I think we shared the same vision. I really want to see that come to fruition over the course of the next ten, fifteen, twenty years looking down the road."
Faulknier received a degree in advertising, marketing and public relations, so working at the CVB was a great way for her to put her skills and creativity to use to promote her native county and the locations she grew up enjoying.
"I knew about a career in marketing and advertising, but never really thought about tourism and how those work hand-in-hand," she said.
"My passion of marketing and advertising and branding have kind of really meshed with the fun side of the tourism industry, and getting to promote the place I grew up and love and have always called home, and always, hopefully, will call home."
Fond memories from her childhood also help Faulk-nier give a unique perspective to visitors, who want to know what to expect when coming to the county.
"I definitely grew up going out to Watoga State Park," she said. "I have early fond memories of family reunions and we'd all go to the swimming pool – the cousins and kids having blue lips and all that. The state park there definitely holds a special place in my heart.
"I grew up toward Hillsboro in the southern end of the county, so I loved going up to Cranberry Glades and definitely used to venture around and hike Droop Mountain and the Falls of Hills Creek.
"Those are some special places that, as a kid, I had a real connection with," she continued. "Watoga holds a special place. Of course, going on school trips to Cass and the [Green Bank] Observatory. Those things really do stick with you."
Knowing those memories have stayed strong for a long time, Faulknier is able to use those experiences to add specific details to promotional materials in order to attract people.
"I think just understanding how impressionable those moments were – there wasn't any real glitz or glamour about it – it's really just being out in the woods and dad talking about the different types of trees that he learned about in forestry," she said. "Or just seeing the falls. I think it makes it very easy to put into words the impact that it has on a family, on kids, parents and grandparents, too.
"It definitely is an advantage, I think, of having those special memories in your heart and being able to translate them into our marketing and into our branding," she continued. "To really showcase what Pocahontas County represents, which is building fond memories and enjoying the outdoors, and respecting them."
The CVB has many projects in the works, with probably the top one being the continued efforts to become a Gold IMBA – International Mountain Biking Association – ride center. The county is currently a silver ride center, and Faulknier said the plan is to become a gold center by 2025.
"Cara and a lot of countywide stakeholders have really put a lot of work into our mountain biking product, and I was able to see that group from the outside for the last seven years – watching them building our mountain biking trails and working to promote them," she said. "I want to continue to enhance the mountain biking destination we're becoming.
"I also think about becoming an outdoor mecca for folks who like to hike, fish and hunt," she continued. "I want to continue to promote all the great things that we have and also be mindful of sustainability. That includes the trails and the woods, but also in the sense of heritage and culture; ensuring that no matter how much we promote and how big we get, we always are Pocahontas County, and we always continue to tell our story of who we are as the communities that make up the county."