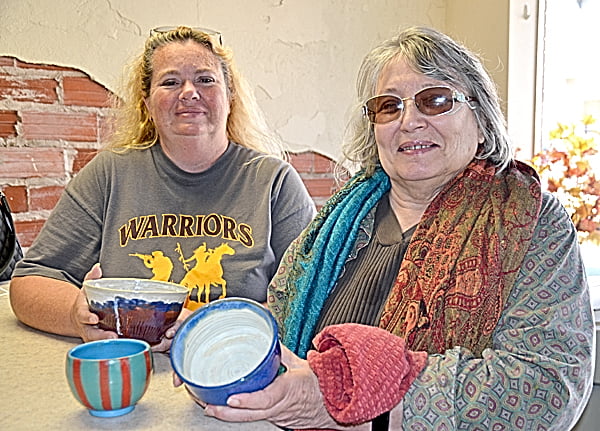 Becky Campbell (left) and Cynthia Gurreri, are preparing for the Family Resource Network's fourth annual Empty Bowls event. The fundraiser, which will be held on Friday, October 23, from 6 to 8 p.m., will benefit the Harvest House Food Pantry. Due to Covid-19 precautions, instead of having a sit down supper, the evening's format will be a little different.
The handcrafted bowls, made by Pocahontas County artists Cris Bartlett, Cynthia Gurreri, Eric Stahl and Tracey Walker, will be set up at the FRN Family Center, at 821-A Third Avenue in Marlinton, where guests will be invited in to select a bowl and homemade soups and breads will be served for dining alfresco or carry-out. Weather permitting, guests will gather at Discovery Junction.
Tickets are available in advance or at the door and cost $25 – which includes a unique, handcrafted bowl, your choice of soups, a side of bread, a dessert and drink. Mask etiquette and social distancing will apply. For more information, contact Becky Campbell at pocahontasfoec@hotmail.com or 304-799-6847.