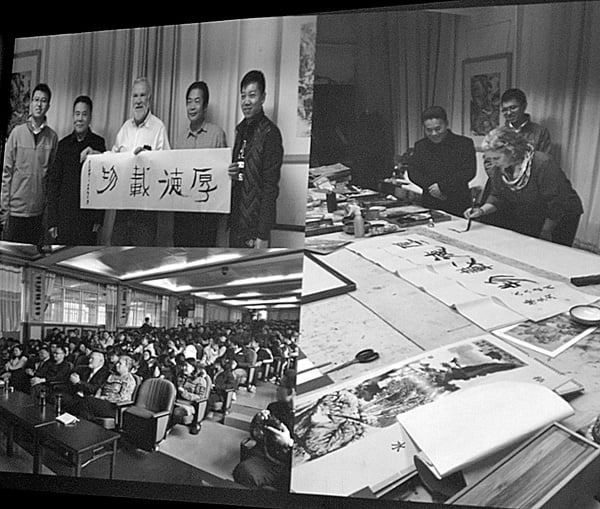 Suzanne Stewart
Staff Writer
As part of his job as a mechanical engineer at the Green Bank Observatory, Dennis Egan has traveled to China for the past 10 years as a consultant on the FAST – Five-hundred-meter Aperture Spherical Radio Telescope – located in Pingtang County, Guizhou Province, southwest China.
On his last trip, Dennis was joined by his wife, Nancy, and the pair enjoyed a two-week vacation to four parts of China – Beijing, Qinhuangdao, Qufu and Guizhou. The couple shared their experience at our five county libraries with a program called "Four Pieces of China."
The journey began in Beijing, where the ancient architecture mixed well with modern technology. They spent time in the Forbidden City and walked on the Great Wall of China.
"It's really beautiful," Nancy said.
The couple then took a high speed train to Qinhuangdao where they were welcomed to eat at their hosts' home – a different experience from eating in a restaurant.
"Everything was perfect," Nancy said. "Our place settings and everything. We had fork, knife and spoon, but we used our chopsticks."
In Qinhuangdao, the Egans toured a new museum which had replicas of ancient artwork and fashions from different dynasties.
At the museum, a calligraphy artist created a special writing based on the Egan's son's name, Benjamin.
"He took the name Benjamin, and he wrote it out on a slip of paper in characters across the top," Nancy said. "Then he wrote a fortune about his work and different things about his personality. I only talked about him a little bit, but it was pretty amazing he came up with so much – hardworking, imaginative, creative – different things. It was so hard to remember all the things that went along with the Chinese characters. Ben really loved it."
Next, the Egans continued their journey in Qufu, the birthplace of Confucius. They visited his birthplace and the area built in his honor.
The gentleman who invited the Egans on the trip, Zhu Ming, took them to his brother-in-law's school, where Dennis gave a presentation.
"Dennis got to do a talk, and he did it all in English," Nancy said. "There were three hundred students that attended this talk, and they proceeded to ask questions in English and some of them were twittering because they're using their English. It was really something."
"I signed autographs for probably ten minutes," Dennis added.
Shocked by the treatment, Nancy said some of the students even asked her for autographs. Despite being only a spectator, Nancy was held in the same regard as Dennis.
"I didn't do anything," she said, laughing. "These young men were coming up to me, wanting me to sign their books. It was wonderful."
During their visit to the school, the art teacher gave the Egans a lesson in calligraphy and had them show their skills.
"He suffered while we tried out calligraphy," Nancy joked. "I was having fun. It was kind of strange having the principal and the English teacher, and all these people waiting on me to finish my character."
The final leg of their journey was to Guizhou, home of the FAST telescope. The five-hundred-foot structure is built into a natural sink hole and is the world's largest filled-aperture radio telescope.
The Egans spent time touring the telescope, as well as the surrounding astronomy-themed community, complete with museum.
"They made this place into this wild – almost like a theme park," Nancy said. "There are all these Chinese and western astronomers [carved into walls]. It was really interesting to see [astronomy] from the Chinese point of view."
The entire time they were in China, Nancy said she could not get over how welcoming and kind everyone was to them.
"They were certainly wonderful hosts to us," she said. "Everywhere we went, the hospitality was just amazing. We were given all sorts of things – precious things – I think."
In the last slide of the presentation, Nancy had a photo of Dennis and a Chinese engineer working on a piece of equipment. She accompanied it with "what politics divides, personal interests and joy of discovery restores. I personally hope that we never forget we can do things together."
Nancy and Dennis fielded questions from attendees at the libraries and displayed some of the many items they brought home from their journey to China.