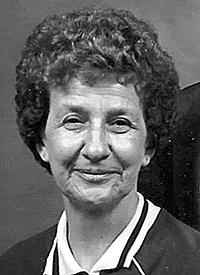 Edith Lucille Barnes Barrett, 92, of Marlinton, passed away Saturday, October 21, 2023.
Born April 20, 1931, in Buckeye, she was the daughter of the late Hiram Jasper Barnes and Mintie Evans Barnes.
In addition to her parents, Edith was preceded in death by her husband, Bill Barrett; daughter, Billie Barrett; and grandson, Phillip Helton.
She will be missed and remembered by her daughters, Lucy Friel, and husband, Gary, and Brenda Helton, and husband, Duane; three granddaughters, Stephanie Friel Daughtridge, Stacie Friel Newton and Emily Helton Weaver; grandson, Brad-ley Helton; six great-grand- children, Darson, Mathias, Luke, Lauren, Helen and Catherine; and a special person in her life, Becky Simpson.
Funeral service will be held Saturday, October 28, 2023, at 1 p.m. at Lantz Funeral Home in Buckeye with Pastor Sam Felton officiating. Burial will follow in Buckeye Cemetery.
The family will receive friends at the funeral home Saturday from 11 a.m. until time of service.
Online condolences may be shared at Lantzfuneralhome.com