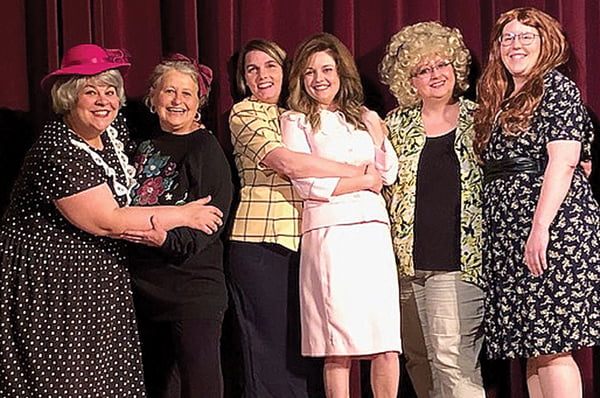 Steel Magnolias is coming to the Pocahontas County Opera House, with a cast of local women excited to bring this familiar story to the stage.
The play will be presented by the Pocahontas Drama Workshop Friday, May 17, at 7:30 p.m. Saturday, May 18, at 2 p.m. and 7:30 p.m.
Tickets will cost $10 and will be available at the door.
"I wanted to do a play that people know and love," Director Charlie Maghee Hughes explained. "Steel Magnolias is the story of a group of women in a small southern town who, despite all their eccentricities and squabbles, come together in times of need. It's the kind of play that really connects because the characters are so real – plus it's just so funny."
Steel Magnolias was written in 1987 by Robert Harling. It was based on the story of his sister and mother and a group of women friends who come together at the beauty shop in a small town in Louisiana. Most people are familiar with the movie starring Julia Roberts and Sally Field as the mother/daughter characters and Dolly Parton as Truvy, the wise-cracking hairdresser.
The movie was a big reason that many of the women decided to try out for the Drama Workshop's production of the play.
"The reason I wanted to try out for this production is that I love the story of Steel Magnolias," said Susan Grant, a fifth grade teacher who lives in Hillsboro.
"My first encounter with it made me both laugh and cry. It is humorous, full of friendship and sad all at the same time. I'm super excited to be a part of this play!"
For Blair Campbell, also of Hillsboro, the chance to be in Steel Magnolias was just too great an opportunity to pass up.
"I've wanted to be in a play at the Opera House for the longest time," said Campbell, owner of the Pretty Penny Café. "When I heard about Steel Magnolias, I had to try out."
Campbell is a big fan of the movie—she claims to know every line—but she had no idea when she auditioned which part would suit her. She's been cast as Clairee, and she thinks it's a good fit.
"I was shocked to realize that I am, in fact, a great personality to play Ms. Clairee. She's funny and full of love. And she likes to eat. My goal is to give a heart-felt performance that makes the audience and myself feel something."
Rachel Fanning, of Snowshoe, was hesitant to try out because of the time commitment but is now thrilled to join the cast as M'Lynn, the mother of Shelby.
"I had toyed with the idea of auditioning, then dismissed it as being too much with the time and family commitments I already had," said Fanning, who works in marketing at Snowshoe Mountain Resort. "A good friend pressured me into going anyway, and here I am. I'm not a bit sorry about that. M'lynn is a great character and can really only be played by someone who has a child, and especially a daughter. I have two and am excited for them to see me perform."
Lisa McLaughlin, who plays Truvy, hadn't done any theater for ten years and she decided to come out of retirement to tackle the part made famous by Dolly Parton in the movie.
"I tried out for this play on a whim," she explained. "I saw a friend's post on Facebook announcing the auditions that night and thought what a fun play that would be! It had been about ten years since I had been in a play, and I thought why not?  I have had some great experiences in the past with theater productions I have been in."
Arla Ralston, of Buckeye, who plays Ouiser, was excited about working with a great group of women actors.
"There are so few plays with great parts for women especially when you get to be my age," she said. "But all the characters in Steel Magnolias are strong in their own way. And they care about each other. Even Ouiser, who seems so cantankerous, is really just a big softie on the inside."
Allie Callison, who plays Shelby, may be a newcomer to the stage but she will certainly be at home on the set. She is the owner and operator of Allie's Shop in downtown Marlinton. She's taking on the part played by Julia Roberts in the movie and it's her story that drives the plot.
The cast of Steel Magnolias hopes you'll share their excitement and mark your calendars now for May 17 and 18 when they'll be bringing their version of this classic story to the stage at the Pocahontas Opera House.