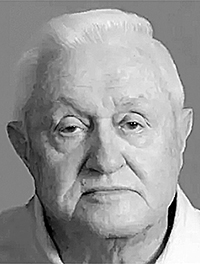 Donald Charles Goldizen, 86, of Beverly, went to be with his Lord and Savior Monday, August 21, 2023, at his home surrounded by his family
Born Tuesday, December 1, 1936, in Petersburg, he was a son of the late Sampson Goldizen and Gladys Rebecca Hesse Goldizen. He was twice married. He was married for 57 years to the mother of his children, Pauline Astin Goldizen, who preceded him in death. The Lord blessed him a second time with his marriage to Estelle "Tillie" Chenoweth Goldizen, who survives.
Donald was a graduate of Marlinton High School with the class of 1955. For thirty-one years, he served with the WV State Police, achieving the rank of Captain. After his retirement from the WV State Police, he served as Mayor of Beverly for 10 years. He enjoyed hunting, fishing, and coin collecting. He was Pentecostal by faith and a member of Tygart Valley Baptist Church.
In addition to his parents, he was preceded in death by two brothers, Bob Goldizen and Larry Goldizen; and two sisters, Janet Goldizen and Linda Barlow.
Also left to cherish his memory are six children, Gary Goldizen, and wife, Rhonda, Tammy Epperly, Debbie Stalnaker, and husband, Dan, Cliff Biller, and wife, Tiffiny, Tammy Hedrick, and husband, Bud, and Dale Biller; four brothers, James Goldizen, and wife, Sissy, Fred Goldizen, and wife, Barbara, Jack Goldizen, and companion Loretta, and Paul Goldizen and wife, Ann; one sister, Shirley Biller, and husband, Dale; sister-in-law, Karen Goldizen; 12 grandchildren, Becky, Drew, Jeremy, Adam, Andi, Anthony, Jackie, Tommy, Samantha, Jenna, Josie and Taylor; 11 great-grandchildren; several nieces and nephews; and his cat, Charlie.
Funeral service was held Saturday, August 26, 2023, at Randolph Funeral Home with Pastor Jack Howell officiating. Interment was in Cochran Cemetery near Marlinton.